Since 2006, high school history teacher Howard Van Otterloo has been organizing trips across the country for nearly 400 of his own students in the Janesville-Waldorf-Pemberton school district, visiting a different U.S. region each summer. They've seen historic sites, national monuments, museums and landmarks, with concerts and beaches thrown in for good measure.
For a couple of students, this summer's Civil War-themed trip through the American southeast was significant. Alexia King, who just graduated from high school this year, is one of the first to visit the entire lower 48 states, all made possible through five summers traveling with her classmates. Students who participate in all five trips can mark visiting every state but Alaska and Hawaii off their bucket list. And they have the historical knowledge gained from every place they visited to prove it.
"In 2015 we came up with a plan for a five-year rotation where if you go all five years, you see 48 states," Van Otterloo said.
Five years ago, as King was about to start high school, a cousin who was in the school's history club, led by Van Otterloo, inspired her to join. Before the beginning of her freshman year, she boarded a bus to visit San Francisco, San Diego and Los Angeles.
Looking back on all the states she's visited, her favorite places are Washington state and Washington, D.C. On a previous trip to Seattle, she saw the space needle and had some time to explore the city with friends. On this summer's trip at the end of July, she returned to D.C. with her classmates.
"We did these night walks around all of the monuments," King said. "It was really awesome to see everything all lit up at night. We also toured the Capitol and then we went to the Holocaust Museum and a group of my friends went to the Smithsonian natural history museum, the National Air and Space Museum, and the large group as a whole went to the national museum of African American history."
For King, who already had an interest in history, there is no comparison between learning from a textbook and visiting the actual places they've been studying in class.
"It makes me feel like I have a better connection with everyone else," she said. "I'm super lucky and grateful to have had this opportunity. I feel like I know a little bit more, and I can say that I've learned and experienced something in each of these states."
In July, 64 students, 11 chaperones and teachers took two coach buses through Tennessee, Alabama, Georgia, the Carolinas and up the East Coast before heading west through the Appalachians and finishing up at Abraham Lincoln's former home, tomb and museum in Springfield, Illinois.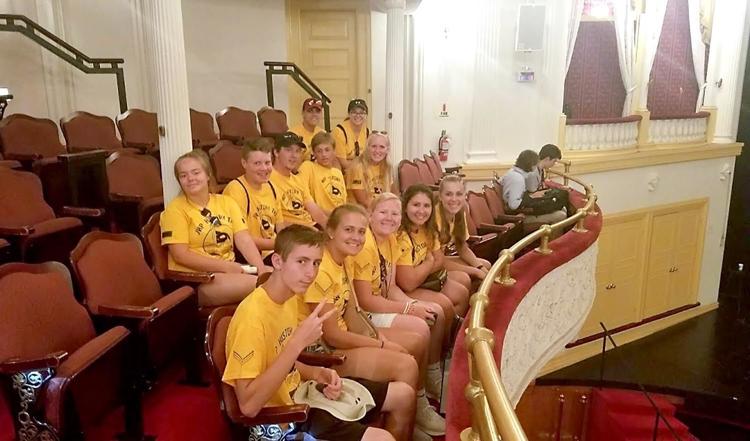 Van Otterloo said along with visiting battle sites in Tennessee and attending the Grand Ole Opry and the Country Music Hall of Fame in Nashville, they ventured over to the colonial cities of Charleston, South Carolina, and Savannah, Georgia. He said the students enjoyed learning about the unique language and culture of the Gullah community at the Pinpoint Heritage Museum in Savannah.
"At the end of the Civil War a lot of the sea islands were abandoned by the white plantation owners, so a lot of the ex-slaves more or less took over some of those plantations," Van Otterloo said. "There are people that keep the culture alive and they spoke to us in Gullah; the kids were really into that."
In North Carolina, they visited the Lost Colony of Roanoke, settled by 117 European colonists in 1587 on an island along the coast. One of the settlers left for England only to return three years later to find all the inhabitants gone. To this day, no one knows for sure what happened to the colony's residents.
The students visited eight presidential tombs and spent their last day visiting Lincoln's old hometown of Springfield, Illinois.
"We went to his house, to his tomb and to his museum," Van Otterloo said. "It was a nice wrapup because we had been talking about the Civil War the whole time. The museum is fantastic. The tomb is very awe-inspiring."
Next year the five-year cycle begins all over again. Participants will follow the Sante Fe Trail to New Mexico and visit the ancient city of Taos before heading to California and returning with stops to the Grand Canyon and Mesa Verde National Park. Van Otterloo plans to incorporate photos from this year's trip into his classes when they cover the Civil War.
"We'll talk about the start of the Civil War next year and show them pictures of their schoolmates at Fort Sumter," he said. "It engages the whole class better that way."