Before the man who shot him was sentenced to the maximum 35 years, Waseca police officer Arik Matson told a courtroom how his "life was changed forever."
He doesn't remember the night he was shot by Tyler Robert Janovsky. He only remembers waking up in a hospital bed and all the pain and frustration that has followed.
While he continues a long recovery, he said, he is grateful for all the support.
"From this day forward I chose to live life to the fullest, trust God's plan and never take anything for granted," Matson said.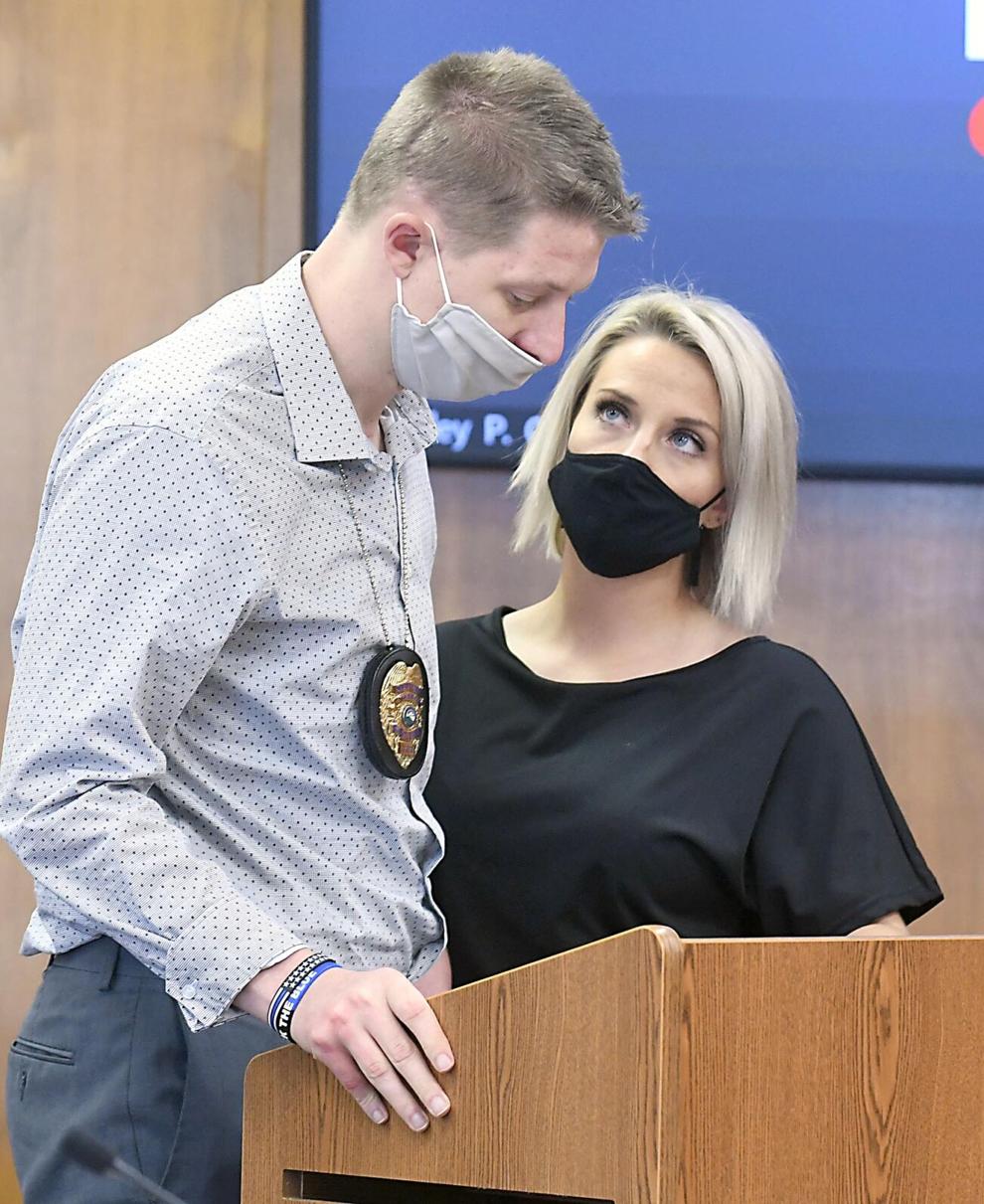 Matson, 33, told the courtroom he "would still respond to that call if it were tomorrow."
Janovsky did not look at Matson or any of the people who spoke about how he had shattered their lives Friday afternoon at the Waseca County Courthouse. He gave a brief apology before he was sentenced to 35 years in prison for shooting Matson in the head and shooting at two other Waseca police officers.
Janovsky, 38, of Waseca, was wanted on drug charges when officers responded to a suspicious person report on Jan. 6 and found Janovsky on a balcony of a residence in the 900 block of Third Ave. S.E.
Janovsky climbed onto a garage and shot at an officer, then shot Matson, then fired another shot at Matson and a third officer, according to court documents.
Officers returned fire and Janovsky sustained non-life-threatening wounds. He reportedly told a family member he intended to commit suicide by cop a few weeks before the shooting.
Janovsky pleaded guilty to two counts of attempted first-degree murder of a police officer in July. A third count of attempted murder was dismissed in a plea deal, along with a weapons charge and the prior drug charges.
Both Waseca County Attorney Rachel Cornelius and Judge Christine Long said Janovsky's 35-year prison sentence was not enough for the widespread devastation he inflicted. But it is the maximum allowed by the state. After the hearing, Cornelius called for that to be changed.
"The law doesn't account for if the officer or officers are gravely injured. It doesn't account for if they almost die, if they have to relearn how to eat, walk and talk and possibly never return to work," she said.
Matson spent months in hospitals and rehabilitation facilities, much of it without his family by his side because of the pandemic. He returned home to Freeborn last month.
"While we are all thankful he is home now, and we are all finally together as a family, his journey to recovery is far from over," wife Megan Matson said during her victim impact statement.
"Sometimes you have to let go of the picture of what you thought life would be like and find the joy in the story you are living," she said. "We have found joy and we will keep living."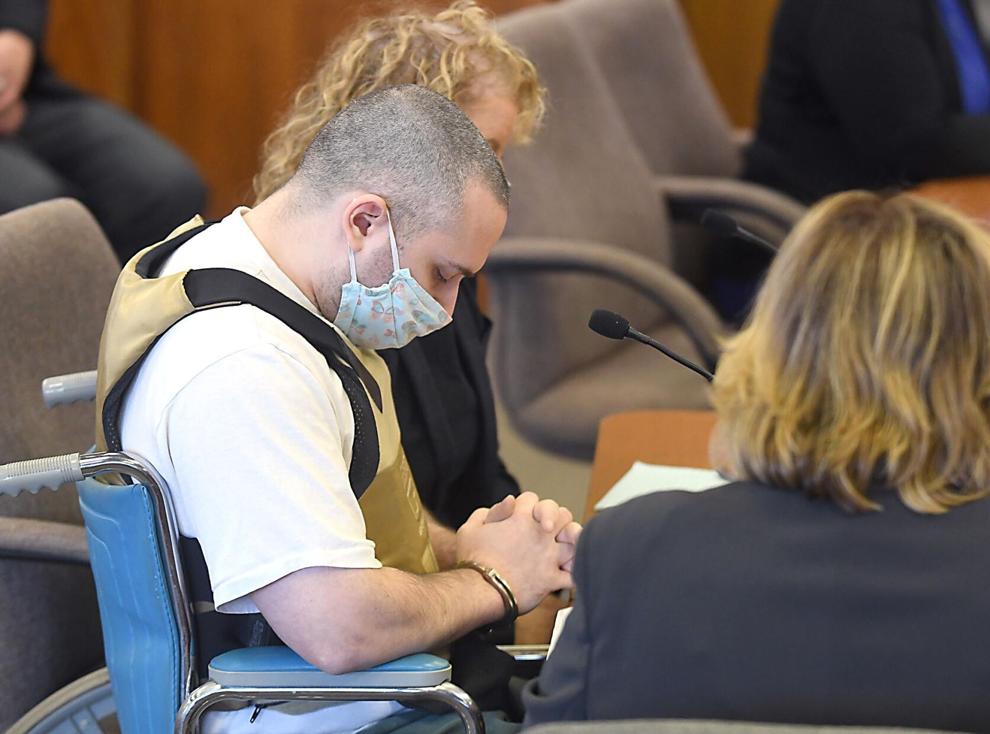 Janovsky told the court his words could not express his regret.
"I am deeply sorry for the pain and suffering I have caused to officer Matson and his family and the community by my inexcusable actions," he said. "I hope and pray officer Matson makes a full recovery and his family finds some closure."
The apology came after 50 minutes of victim impact statements, including from other members of the Matson family, members of the Waseca Police Department and the residents who ran from bullets that entered their home.
"Our family endured weeks watching our loved one lying motionless in a hospital bed," brother Jared Matson said. "Arik was fighting for his life and our family watched helplessly praying he would pull through."
Later the family struggled with the separation.
"We were unable to hug him and tell him it was going to be OK," Jared Matson said. "We were unable to hold his hand and tell him to not give up."
Jack and Mary Williams described hearing the shooting that occurred outside their home and witnessing the aftermath. One bullet went through a bedroom window and they went to the basement and "hugged and prayed" as more shots rang out, one hitting their garage.
"We asked ourselves: Why our home? What was his intent? Were we in danger? What if the police did not arrive as soon as they did?" Mary Williams said.
Officer Andrew Harren and Sgt. Tim Schroeder talked about their feelings of guilt over not being able to protect their colleague.
"Each of us wishing we had been able to do something more, this terrifying event has affected members of the Waseca Police Department, law enforcement abroad and our community, not just those who were at the house that evening," Harren said.
Schroeder said he can't stop reliving that night.
"By the grace of God I was not physically wounded that night, but the defendant might as well shot me through the heart," he said.
Police Chief Penny Vought called Arik Matson "one of the kindest, most likeable, easy going men I've ever known" and she called his shooting "senseless, tragic, evil, horrific and appalling."
"I don't think we'll ever be able to forgive the defendant for the devastation that he has caused Arik and his family," she said.