Minnesota National Guard Sgt. Logan Woods has formed a kinship with the Vietnam vets he's met at VFW Post 950 over the past year. Woods is one of a handful of members in the Mankato vets organization who served in Afghanistan.
"We can relate with them, share some stories," 25-year-old Woods said about those who served overseas five decades ago.
Woods joined Post 950 after returning stateside from Bagram Air Field early last summer. He was in Mankato when the last American aircraft departed the Kabul airport on Aug. 30, 2021.
"I felt a mixture of feelings — angry because it was very unnecessary and devastated at what happened," he said describing his reaction to the withdrawal of U.S. troops.
Woods believes veterans who'd served in Southeast Asia had similar feelings on March 29, 1973 — the day the last military unit left Vietnam.
During his time in Afghanistan between November 2020 and June 2021, Woods was stationed at a base 43 miles from Kabul.
At times, he feels a need to correct stereotypes Americans have formed about the landlocked country at the crossroads of Central and South Asia. Its mountain landscapes are beautiful, he said.
"I like to describe Afghanistan as being like Colorado and Arizona," Woods said. "It's not all desert — not a sandbox. If it wasn't so war torn and corrupt, it would be such a beautiful vacation spot."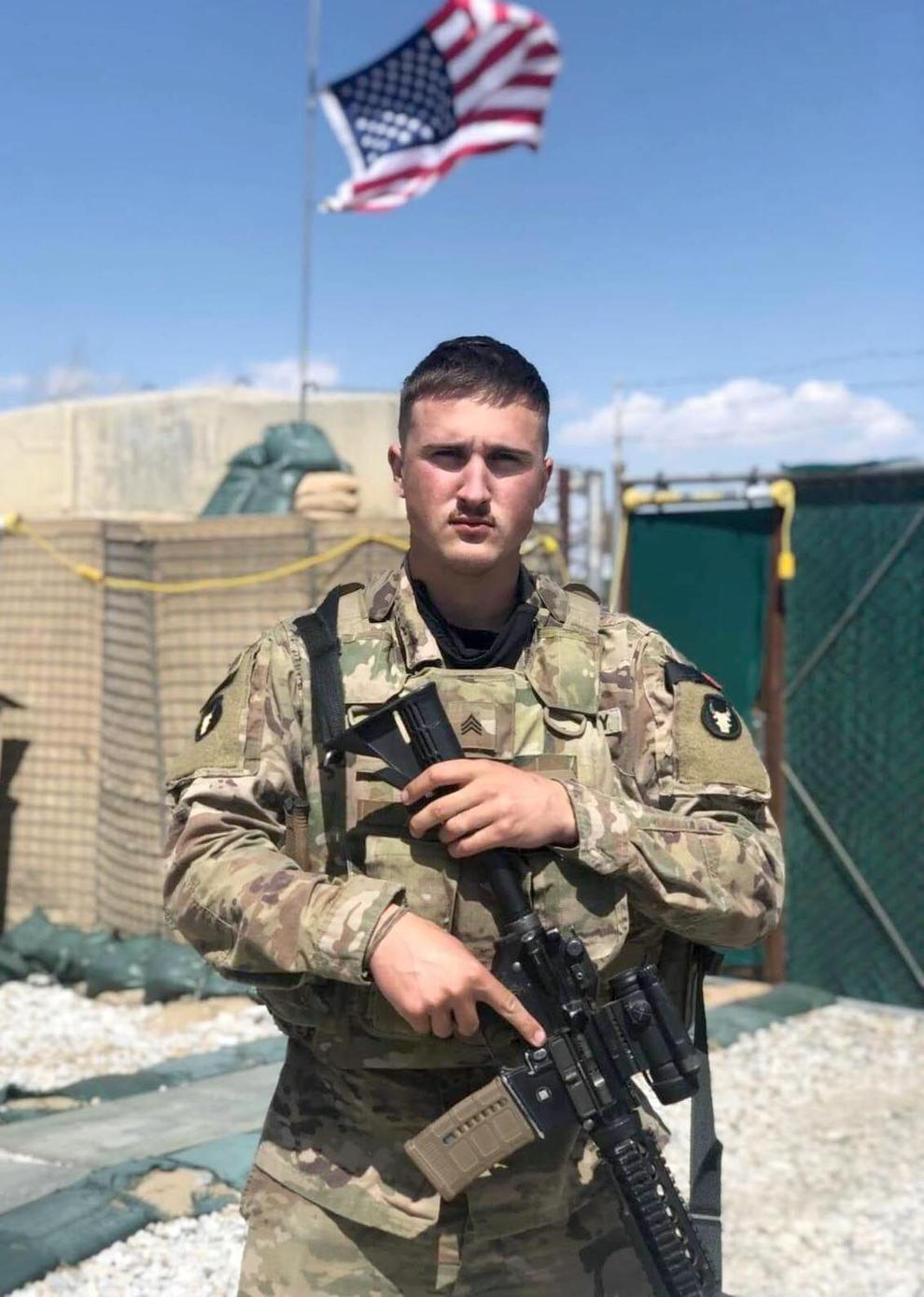 Woods has remained close to some of the people he was stationed with at Bagram. He's been told horror stories by military friends who remained in Afghanistan after his tour ended. One friend described how an Afghan man who had been a truck driver was treated by the emboldened Taliban.
"They hung him and they hung his son."
It's important for Americans to hear the consequences that Afghanistan's civilians face, Woods said.
Mike McLaughlin, Blue Earth County veterans service officer, believes it's also important to remember the stories of the American troops who served in Afghanistan.
"After all, they gave their blood, sweat and tears — and sometimes body parts," said McLaughlin, who was stationed in Iraq, not Afghanistan.
Jack Zimmerman, 33, of Elysian, was an Army specialist in Afghanistan when, in March 2011, he stepped on an IED while taking cover from enemy fire. He lost both legs and three fingers, and has since had more than 20 operations to help him heal.
Zimmerman's memories of his time in Afghanistan remain vivid.
"It changed my life forever. I lost both my legs and I lost my best friend there."
Eleven years have gone by since Zimmerman was stationed in Afghanistan; however he remains clear about the purpose of his service in a foreign country.
"I know while I was there I did a lot of good for a lot of people."
One of the Afghans Zimmerman got to know was an interpreter, John.
"He was with us on every patrol. Toward the end (of deployment in Afghanistan), I called him my brother," Zimmerman said.
He's not certain what's happened to John, whose work with U.S. troops surely made him a target of those who now rule the country.
"At first, I couldn't do a lot for myself ... I had to reinvent myself, learn to be my best new version," said Zimmerman, whose recently published book describes his military experiences.
Zimmerman was at home when he heard the breaking news last year that Kabul had fallen to the Taliban.
"I knew then it was pretty much over."
Zimmerman said it's frustrating to try and understand the reasons behind the U.S. withdrawal last year.
"We are still in Japan, we are still in Germany. I don't know why we didn't keep the ground we took (in Afghanistan)."