MANKATO — Edward Inch is set to become the 13th president of Minnesota State University, the first change in leadership in nearly two decades at the state's second-largest university.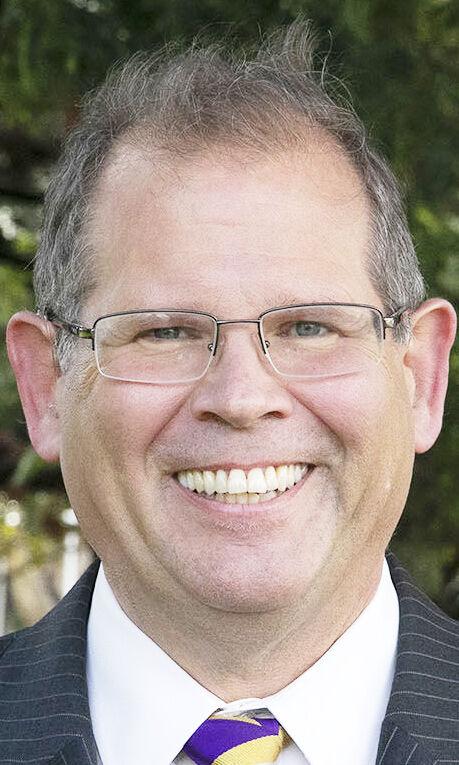 While the hiring won't become official until an employment contract is finalized, the MinnState Board of Trustees — which oversees Minnesota's system of state colleges and universities — unanimously endorsed the recommendation by MinnState Chancellor Devinder Malhotra that Inch be the successor to longtime MSU President Richard Davenport, who is retiring June 30.
And Inch clearly indicated that it's all but a done deal, telling the board that on this St. Patrick's Day, he wasn't wearing green.
"I am proudly wearing purple. ... And, 'Go Mavs,'" he said.
Salary and other terms are yet to be negotiated in the employment agreement.
The provost and vice president of academic affairs at California State University-East Bay since 2016, Inch previously was at California State University-Sacramento as a dean, at Capital University in Ohio as provost and vice president for academic affairs, and at Pacific Lutheran University in Tacoma, Washington, as a dean, a department chair and the director of forensics.
Board Chair Jay Cowles — one of three board members to personally interview the finalists — praised the selection.
"I think he is fully prepared and equipped to do an outstanding job at MSU-Mankato," Cowles said.
Malhotra chose Inch from among four finalists for the post, the others being John Jasinski, president of Northwest Missouri State University; Debra Larson, provost and vice president of academic affairs at California State University, Chico; and Mrinal Mugdh Varma, provost and senior vice chancellor at Alabama's Auburn University at Montgomery.
The finalists were recommended — from a field of 72 applicants — by a search advisory committee comprised of students, faculty, staff and community leaders, and chaired by St. Cloud State University President Robbyn Wacker.
Inch has the skills and experience to continue MSU's progress, according to Malhotra, who noted Inch's track record in strategic planning, academic oversight, staff management, student and faculty recruitment and retention, fundraising, promotion of lifelong learning, student support, community engagement, and equity and diversity.
Students who submitted comments after online meetings with the finalists complimented Inch's passion, his support for international students, his ideas for closing the achievement gap, and more, Malhotra told the board. Faculty liked his experience in community relations and his commitment to professional development opportunities, among other attributes, and described him as "a strategic thinker with an engaging personality."
Trustee Kathy Sheran — a former state senator, Mankato City Council president and nursing instructor at MSU — said two of the finalists rose to the top, without naming the second semi-finalist. Each had different strengths, but Inch's attributes best match MSU's needs in the coming years, said Sheran, who called him "a great choice for Minnesota State-Mankato."
The other board member to interview the finalists, Trustee Dawn Erlandson, said Inch also brings experience and insights garnered at a highly regarded state university system.
"I'm excited to see what we can learn from the Cal State system...," Erlandson said.
Inch, who will assume the presidency July 1, indicated no hesitancy in moving from the San Francisco Bay area of California to Mankato after learning about MSU and hearing from people at the university and in the broader community.
"My takeaway was this institution inspires a deep sense of pride, a sense of potential, a sense of opportunity ...," he said in a video released after the board's decision. "The focus on excellence over an array of programs is truly amazing."
Although Inch will be moving from a metropolitan area of nearly 8 million to a town of fewer than 50,000, he emphasized that he's not a city boy.
"I grew up on a small rural island in Washington state in a close-knit community on a little farm," he said. "My parents were both teachers. My mom was a kindergarten teacher and my dad was a middle school algebra teacher, who gave me a B, by the way, for beginning algebra, for which my mother never quite forgave him."
After high school, Inch pursued a bachelor's degree in speech communications, rather than mathematics, at Western Washington University followed by a master's in rhetoric and communication at Oregon State. His doctorate in speech communication from the University of Washington had an emphasis on international conflict and dispute resolution, advocacy and persuasion. His doctoral dissertation was: "National Security Council Memorandum no. 68 and the Creation of Cold War World Visions."
His entire 13-page curriculum vitae is available at https://mankato.mnsu.edu/globalassets/presidential-search/inch-edward-cv-msu-mankato-pres_redact.pdf.
Along with selecting Davenport's successor Wednesday, Malhotra and the Board of Trustees used the occasion to pay tribute to the outgoing president, who has led MSU since 2002 — a tenure longer than all but two presidents in the university's 152-year history.
"He's done an excellent job at Mankato," said Trustee Michael Vekich, who was involved in Davenport's hiring. "Although he'll be missed, he's left a great legacy."
Steady growth at MSU has been a hallmark of Davenport's tenure, and MSU now has the largest enrollment in the MinnState system, trailing only the separately governed University of Minnesota among traditional colleges and universities in the state.