Some local fire chiefs say they have to look a little harder these days to find volunteers willing to make the considerable time commitment it takes to become a firefighter.
But area fire departments aren't facing the severe staffing shortages that are plaguing departments in other parts of the country.
At least a few fire departments in south-central Minnesota are at full capacity.
Most of the top firefighters surveyed by The Free Press said they're looking for a few more volunteers to join their ranks.
All of the chiefs said they are a little concerned about maintaining adequate staffing in the future. Many of their members are nearing retirement and interest from younger people is waning.
"Recruiting is getting tougher all the time," says New Ulm Fire Chief Paul Macho.
"The last couple years it has been harder to find people," says Janesville Fire Chief Mark Spitzack. "It's a big undertaking. It's a big commitment."
Most area fire departments rely entirely or primarily on firefighters who receive little to no compensation. They often are called volunteer firefighters, even though they might receive some benefits. Those who receive a small payment for each response sometimes are called paid-per-call firefighters.
The Mankato Department of Public Safety has a mix of full-time, part-time and volunteer firefighters and like many of its neighbors is looking for volunteer members.
Declining nationally
A survey of fire departments published by the National Fire Protection Association this spring found the number of volunteer firefighters was at its lowest level since the survey began.
"We know many volunteer fire departments are struggling to maintain adequate staffing," National Volunteer Fire Council Chairman Kevin Quinn said in a statement. "However, the scale of the loss of volunteer firefighters estimated in this report is really disturbing..."
Those who are volunteering in fire departments are getting older. Since 2000 there has been a 15% percent drop in the number of firefighters under the age of 40 in small communities, according to the National Volunteer Fire Council.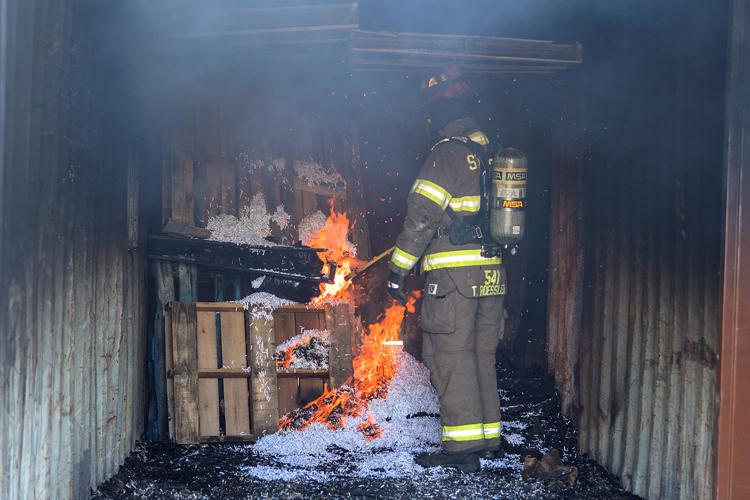 Departments recruiting
The Mankato, North Mankato, New Ulm and Eagle Lake fire departments are among those in the area who are seeking new members.
Mankato Associate Director of Public Safety Jeff Bengtson and Eagle Lake Chief Dan Ruschmeyer said they are continuously casually recruiting.
Bengtson said his department doesn't have a target minimum number of volunteer members, but he would like to add a few.
"We're always looking. It's an ongoing effort for us," Bengtson said, adding interest seems to be a bit depressed in recent years.
In Eagle Lake, Ruschmeyer said his department is presently one member shy of its 25-member target and he expects a retirement in the near future. But there are two prospective members currently in the pipeline.
"We are close to full as we have been in few years," Ruschmeyer said.
Still, Eagle Lake's chief said he'd like another trainee or two in preparation of anticipated retirements.
The North Mankato Fire Department usually holds a recruiting push every other year, said Chief Rich Inman. This time the department is looking to at least replace two recent retirements and bring its force back up to 36. They could use a few more members as well in anticipation of more retirements.
The department is holding an information meeting for prospective members on Aug. 21.
The New Ulm Fire Department recruits every summer and has new members do their training together over the fall and winter months.
They are down three firefighters from the target of 42, which Macho said is the norm for each recruiting season due to members retiring or moving away.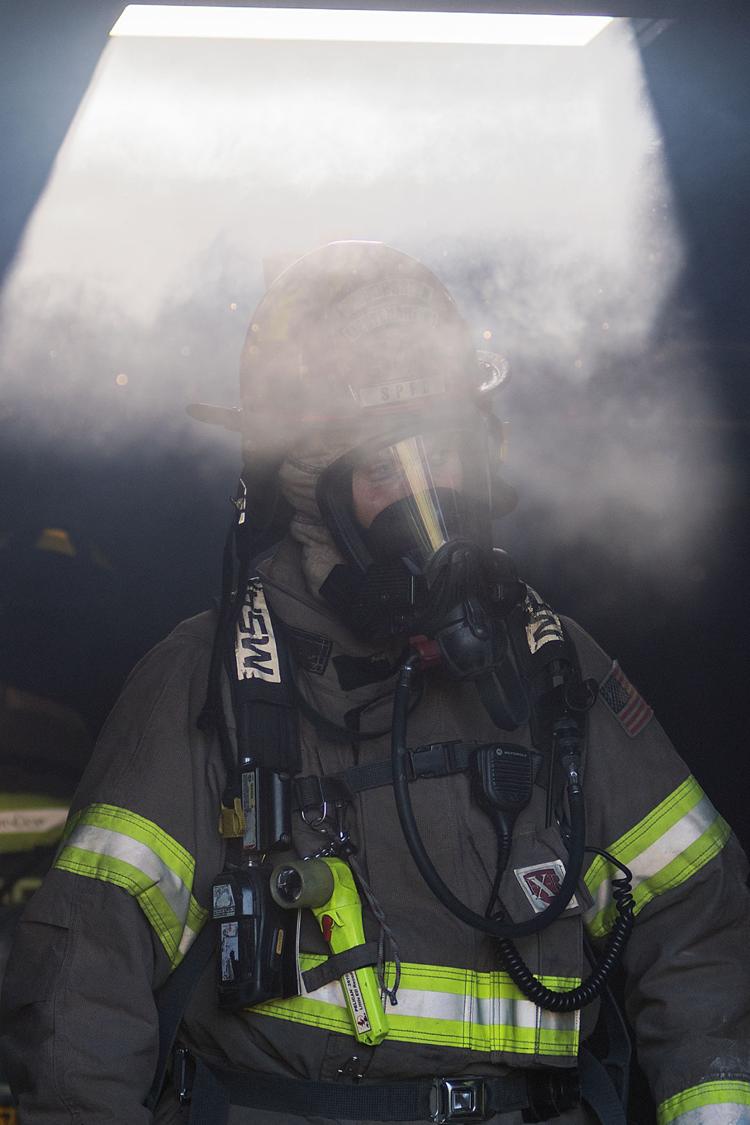 Full but concerned
The St. Peter, Janesville, Courtland and Minnesota Lake fire departments are among those in the region that are not looking for new members because they already have a full complement.
But that doesn't mean they aren't concerned about maintaining a complete crew.
"I truly worry about the future," Courtland Chief Dave Ubel said. "We are pretty lucky right now, but it is an issue for a lot of departments."
Along with serving on the Minnesota Lake Fire Department, Jack Volz owns a firefighter training company and says he frequently hears about struggling departments.
"I really don't have an answer for them other than 'keep beating the pavement,'" he said.
More training
Volz says the preparatory and continuing education requirements for fighters have expanded over the years.
Most fire departments require recruits to complete a 140-hour course, Volz said. More training is required for firefighters who also provide emergency medical support services.
Departments also require all members to participate in drills and other ongoing training, usually once or twice a month.
Departments pay for the training, but chiefs say the extensive time commitment required of firefighters is a hurdle for many prospective members.
"We try to be very upfront with them," Macho said. "It's hard work."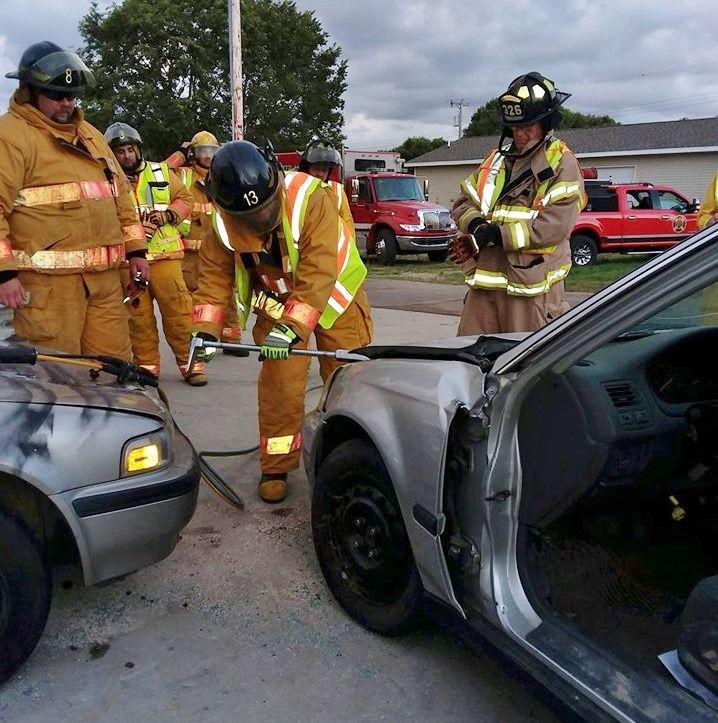 Too busy
New Courtland firefighter Randy Mathiowetz was inspired to join the department after its members came to his aid after a car crash.
"I'm loving everything I've done so far," he said. "You're basically joining another family."
The father of two young girls has a seasonal job and the winter off, giving him time to complete his firefighter training without missing a lot of time with his first family.
Area fire leaders worry young people like Mathiowetz are becoming the exception.
"People don't volunteer the way they used to," Volz said.
"We're just a busier society," Ubel said. "And we're asking a lot of them."
Eagle Lake also has a "reserve unit" of prospective firefighters who do drills with the department. The goal, Ruschmeyer said, is to "give them an idea of what we do" and make sure it is the right fit before the department invests in sending them to firefighter school.
Unique approaches
Some area departments are providing extra incentives for their volunteer members and relief to the number of calls to which they must respond.
The city of St. Peter provides its firefighters with paid health insurance.
Mankato offers free housing in exchange for extra nights being on-call to respond to most calls, reducing the number of times other members are paged in the middle of the night.
The Eagle Lake Fire Department divides the workload by having a special crew of volunteers who can't fight fires but who have medical training and respond to medical calls.
The Elysian and Madison Lake fire departments have units of department retirees who are called back up occasionally when there is a major incident.
Janesville is in the process of developing a similar retiree corps. The retirees won't be running into burning buildings, Spitzack said. They will provide assistance such as driving tankers to the fire or blocking traffic at a crash scene.
"We wont be putting them in harms way," Spitzack said. "They already did their time."