ST. PAUL — Surrounded by teachers and local volunteers, Gov. Tim Walz set the stage for his first term Monday by calling for education and health care reform in his inaugural address.
Speaking before a crowd of hundreds, Walz continued to stress his "One Minnesota" campaign theme as a way to tackle statewide issues. The former Democratic congressman from Mankato also called for unity among Democrats and Republicans to work toward improving Minnesotans' quality of life.
"Governing is not a sporting contest with opposing teams each wanting to defeat the other," he said. "It's not a horse race nor a poker game to see who can best the other. It's about working together."
Walz was sworn in as Minnesota's 41st governor Monday morning in an inauguration ceremony at a packed Fitzgerald Theater in St. Paul. Also sworn in were Lt. Gov. Peggy Flanagan, Secretary of State Steve Simon, Attorney General Keith Ellison and State Auditor Julie Blaha.
Seated among the crowd were several dozen Mankato-area residents, educators and political advocates.
"It was empowering," Mankato Area Schools Supt. Sheri Allen said of Walz's inauguration. Allen was among more than 30 educators who greeted Walz and his wife, Gwen, before they took the stage.
Allen said she's encouraged by the governor's focus on statewide education improvements.
"No matter what your story is, your background, education is the opportunity to open doors for excellence," she said. "It was very encouraging to hear that today, which I didn't expect anything less."
Jim Hepworth, a longtime Democrat and the vice chair of the 1st Congressional District DFL, said Walz's inauguration was a "momentous day" for Minnesota and Mankato.
"Tim's going to bring such energy to the position," Hepworth said of the former Mankato West High School teacher and coach.
Walz and Flanagan said they will push for more educational and racial equality across the state. Walz described meeting residents in outstate Minnesota who were concerned their children and grandchildren wouldn't get the same educational access as children in the Twin Cities.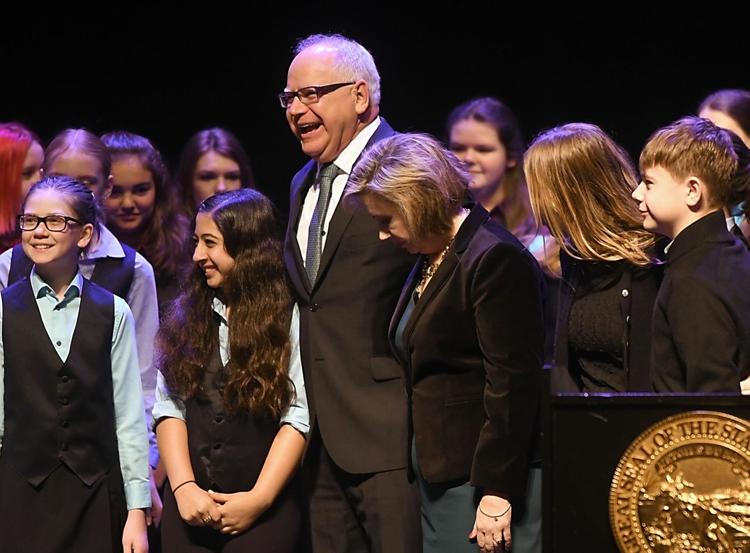 "We must ensure equity in everything we do, from addressing the unacceptable racial disparities in our state to ensuring opportunity is not determined by your zip code," Walz said.
Flanagan went further by describing how elevating her role as lieutenant governor will bring more diverse perspectives in state government. A member of the White Earth Band of Ojibwe, Flanagan is the highest-ranking American Indian ever elected to executive office in any state. She also called on Native Americans and people of color across the state to have a voice at the Capitol.
"You deserve to be seen, heard and valued," she said. "There is a place for you in this work."
On health care, Walz called for Minnesota to treat medical care as a basic human right and promised to invest in medical research throughout the state. He also called for additional investments in Minnesota's infrastructure and Greater Minnesota communities.
Despite Walz's call to come together, he will face a divided Legislature that starts its 2019 session Tuesday. Between a DFL-controlled House, GOP-controlled Senate and a $1.5 billion surplus, Walz will spend the next several months negotiating major policy and a two-year state budget.
Joe Kunkel, a retired Minnesota State University political science professor, believes Walz will be able to find some compromise with Senate GOP leaders, but it remains to be seen whether the DFL and GOP can agree on major policy issues such as a gas tax increase or the DFL's MinnesotaCare health insurance buy-in proposal.
Still, Kunkel sees some hope for lawmakers to come to a consensus with Walz.
"I think he's approaching the gap, trying to really get something done now and not just score points and positions for the next election," Kunkel said.
Walz and Flanagan have several inauguration celebrations planned throughout the week, including a celebration 5:30-8 p.m. Friday at Kato Ballroom, 200 Chestnut St., in Mankato.
Follow Trey Mewes on Twitter at @MFPTreyMewes.