A lot of work goes into keeping an outdoor ice rink up and running — especially a winter with regular warmups such as the one this week.
Mankato and North Mankato staff are out in the morning hours each day preparing the rinks at city parks for the public. But warm weather spells this season have made it more challenging to maintain rinks. Consistent cold weather is needed to flood a rink and create a new smooth layer of ice.
In December Joe Grabianowski and other Mankato staff were preparing community ice rinks for the season. Each morning they hooked up a water hose to a fire hydrant and spread a light water mist over the rinks.
After a week, the ice was almost thick enough for use. Then a sunny warm front moved in, turning the ice into slush.
The opening of the rinks was delayed until the weather cooled down and Grabianowski and his team could start the process again.
"With the weather being up and down, it's been harder to get the rinks up and going ... but we keep after it. When there is ice, people want to be on it," Grabianowski said.
When rinks are open, they are busy with pickup hockey games, kids playing and families skating around. Ice skating and other winter activities have grown in popularity this year as the COVID-19 pandemic restricts indoor gatherings.
As Jed Falgren and neighbor Tom Hallett worked to get the Dotson Park ice rink in West Mankato ready for the season, their progress was halted by the blizzard that hit a couple of days before Christmas. The ice was still too thin to walk on so they were not able to clear snow off of the rink. The snow layer warmed the ice forming underneath it, creating slush.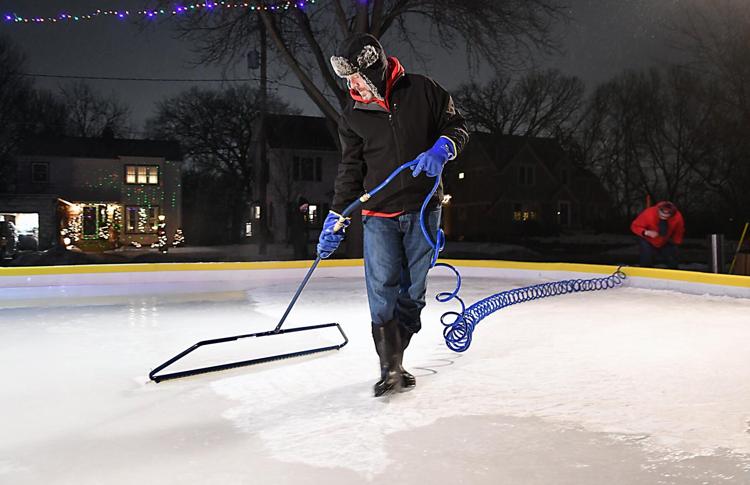 The rink had to be reflooded and the opening of the rink was delayed until Christmas Day.
While most of the local rinks have been in use, warmer days can make it hard to maintain them. To create a new smooth layer of ice on top of a rink, temperatures below 25 degrees are ideal — otherwise it can be difficult for the water to freeze.
Part of the Dotson Park ice rink had to be closed off earlier this month because sun rays hitting the ice had softened it. Most local rinks have been busy the past couple of weeks, but warm weather this week could impact rink conditions again. Forecasters say, however, that Wednesday will be last of the recent warm stretch with highs in the 40s.
These challenges are not a new problem and the issues are only going to increase as winters continue to get warmer.
Mankato is one of the three fastest warming cities in the country, University of Minnesota researcher Tracy Twine told state lawmakers in 2019. Minneapolis is also in the top three because Minnesota winters are warming at a quicker rate than other places in the country.
The state's winters are warming 13 times faster than its summers, Twine said.
The people running the local rinks are used to adapting.
"Opening and closing times are determined by Mother Nature," Falgren said.
Even though warm weather spells have been creating challenges, local rinks have been busier than usual this season.
There's been an uptick in people buying ice skates and other winter gear from Play it Again Sports, said co-owner Steve Eckers. He said the Mankato store is usually busy when there's good winter weather, but that more people are looking for something to do this winter.
The used inventory, which relies on people selling their old gear to the store, has not been able to keep up with demand.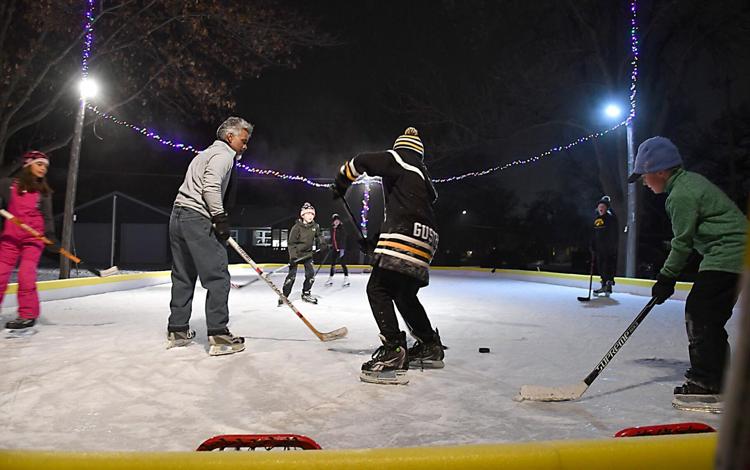 While kids were on winter break from school, the rink at Dotson Park was in use all day and usually had people on it until hours after the sun went down. Sometimes a few kids would play a pickup game of hockey. Other times the rink had 25 people skating around.
The rink has a way of bringing people together during the winter. When Falgren was building the rink for the season, 15 people came to help him lay a white liner and flood it. Jo Falgren, Jed's mother, would sit in Falgren's living room and watch through the window as the community enjoyed the ice rink throughout the day.
"It's a great community event," Jed Falgren said.