MANKATO — Brittany and Jake Young aren't the kind of parents to ask for help.
Their family, however, is the type to offer it.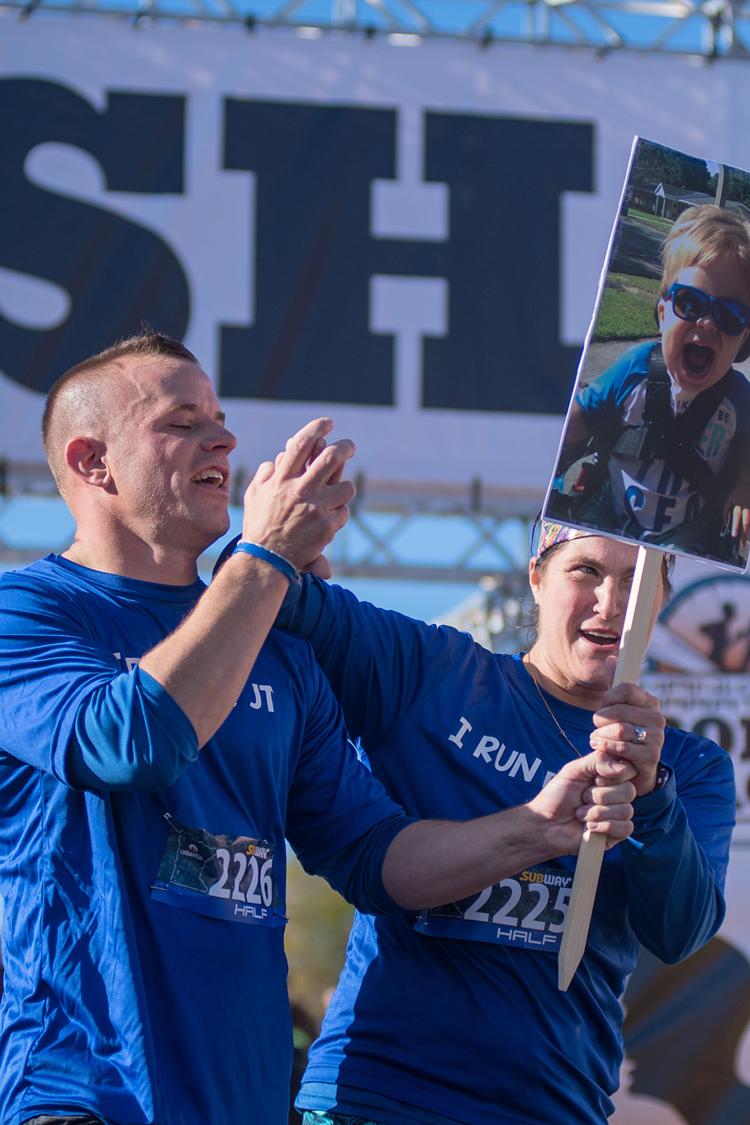 The Youngs, Minnesota natives but currently stationed at Fort Rucker in Alabama, are far from their support system back in Minnesota. Raising their 2-year-old, JT, who was diagnosed with spinal muscular atrophy (SMA) Type Two — a condition described as an infant version of ALS — makes the distance that much harder.
Brittany Young's siblings in the Mankato area adore the little guy from afar. For months they've been raising money to cover equipment to aid his development.
On Sunday they donned shirts in JT's honor, carried a sign with his picture on it, and ran the Mankato half-marathon to raise awareness for the treatment he's now receiving.
The Youngs, JT and all, were following from afar. They'll soon receive more than $7,000 to purchase a warm-water therapy pool among other strength-building equipment.
"It's just an amazing feeling to have such a great support system," Brittany Young said. "I don't know how we'd navigate this journey without them."
Her siblings, Sarah Cornish of Mankato, Sean Drew of Winsted, and brother-in-law, Gabe Cornish, have run in races before. Back then the motivation was fitness.
Sarah Cornish said as the family grew increasingly passionate about JT's condition and treatment, raising the money and racing in his honor seemed fitting.
"They don't ask for much so we thought we'd take it upon ourselves to raise money and start a fundraiser," she said. "People just feel the love for their family; that little boy just pours out so much love that it's easy to do."
Along the race course was a variety of racers championing causes Sunday, whether through messages on their clothes or on signs they lugged along with them. Brittany's family has even done something like this before.
Twelve came down to Savannah, Georgia — where the Youngs were stationed — last fall to run in a half and full marathon to raise money for the cureSMA organization.
Like most children who end up having SMA, JT's development started out normal. Then his family noticed he wasn't reaching the development milestones all parents look forward to. His legs, for instance, didn't seem to be able to bear weight.
Numerous appointments later, as JT's muscle strength continued to weaken, he was diagnosed with Spinal Muscular Atrophy Type Two in May 2016 at 17-months old. He's been in a wheelchair since, which he calls his "blue car."
Last year the family got a glimmer of hope. In December 2016 the FDA passed the first treatment drug for SMA. JT has received five doses of the drug, Spinraza, so far. His family raves about the progress he's made.
His parents are optimistic he could even walk someday. But he'll need to gain strength to do so, which is where the equipment comes in.
Sunday may have marked the end of the siblings' fundraising efforts, but they hope their run raises awareness for newborn SMA screenings. The sooner it can be identified, the sooner a child can start receiving treatment, Brittany Young said.
"With this new drug out we're all really passionate about having newborns screened for the disease so they can get the drug earlier," she said.
After finishing the emotional half-marathon, Sarah Cornish said the cheers she heard and conversations she had give her confidence awareness was spread.
Drew said his family would love to help his sister, her husband and JT everyday. Running Sunday was their way of showing their love even thousands of miles away.
"(The distance) makes you feel kind of helpless, but this is one way we touch closer to them," he said.