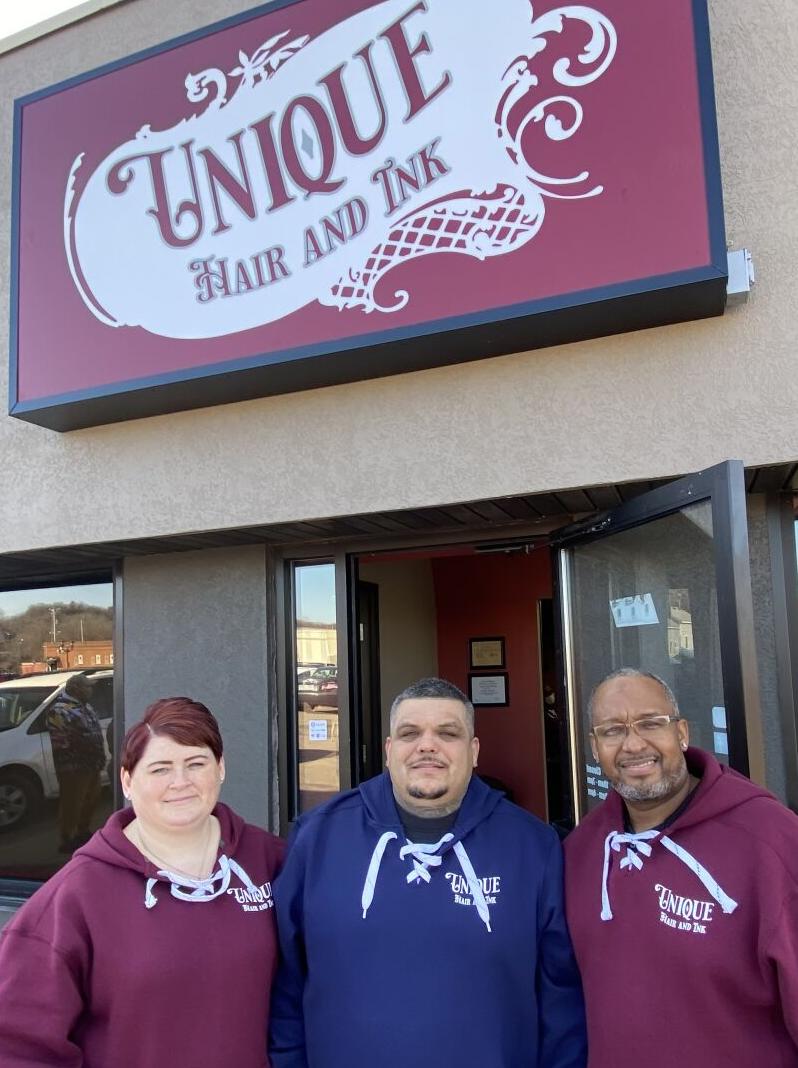 MANKATO — At Unique Hair and Ink, customers will be able to get a tattoo and a shave all under one roof.
Partners Donny Cruz, a tattoo artist, and Jennifer and Richmond Clark, owners of Northside Hair Co. in North Mankato, unveiled the new Mankato business at an open house and grand opening Saturday.
But before they became business partners, they were clients of each other.
The Clarks first became familiar with Cruz's intricate body art from a regular client at Northside Hair Co. in 2019. For each appointment, the regular client would come in for a haircut with a new tattoo.
Richmond Clark was so impressed with those tattoos that he and his wife reached out to Cruz, at the time a tattoo artist at Impulse Tattoo in St. Peter, for a consultation.
"We met at Donny's previous place of employment in January of 2020, which is Impulse Tattoo in St. Peter," Richmond Clark said. "I went in, had a consultation and got a tattoo. Jennifer went about a month later and got a tattoo. Then after that, Donny started coming in and getting haircuts from me. The conversations kept rolling and it went from there."
The three quickly became friends. The Clarks had opened Northside Hair Co., a salon and barbershop, in 2018 and amassed a loyal following of clients. Business was so good that they began to consider a second location.
Cruz was first introduced to the idea of combining a barbershop with a tattoo shop from a friend who owns such a business in Wilmar. The three thought, why not do that here in Mankato?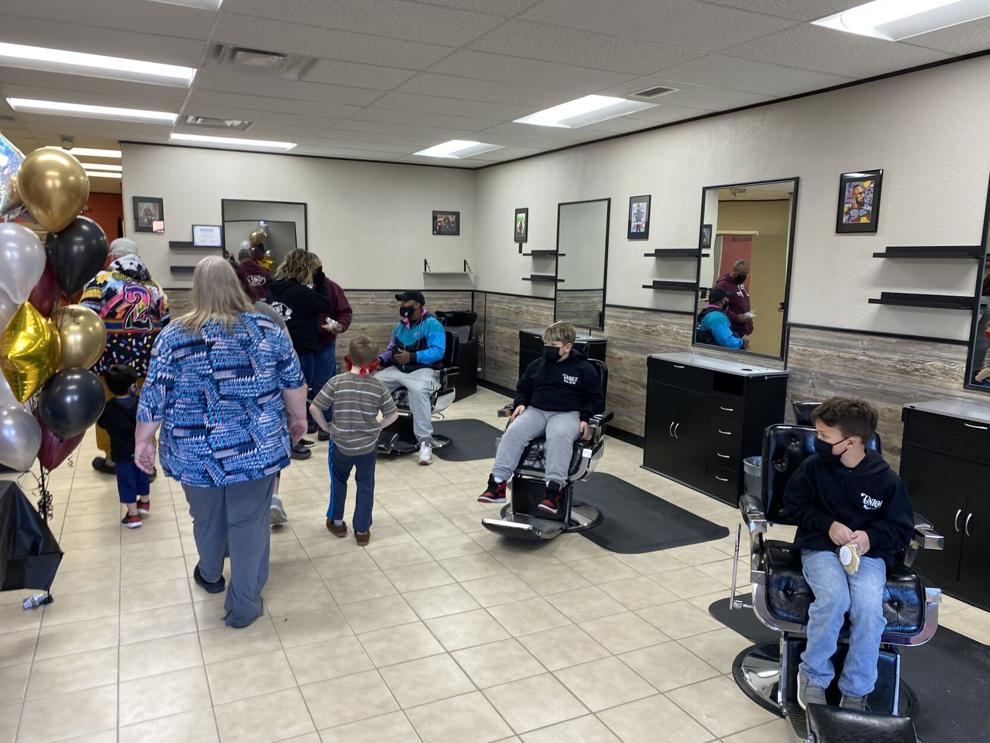 In many ways, there are noticeable parallels for the two industries — both a haircut and a tattoo represent personal expression, and there's a social aspect to both. Returning clients come back for the conversation as much as the haircut or tattoo.
Greg Taylor, a friend of all three, who set up his food truck, TNT Eats, to serve visitors barbecue for Saturday's open house, said the creative and eclectic combination of the two services under one roof will fit right at home in Mankato.
"Being a part of this and seeing them grow, I think this is something that is very unique for Mankato," Taylor said. "They're great people and we're going to get behind them and make sure they are successful."
For Cruz, becoming a tattoo artist was far more than just a way to make a living — he credits it with turning his life around after spending time in prison in his former home-state of Texas.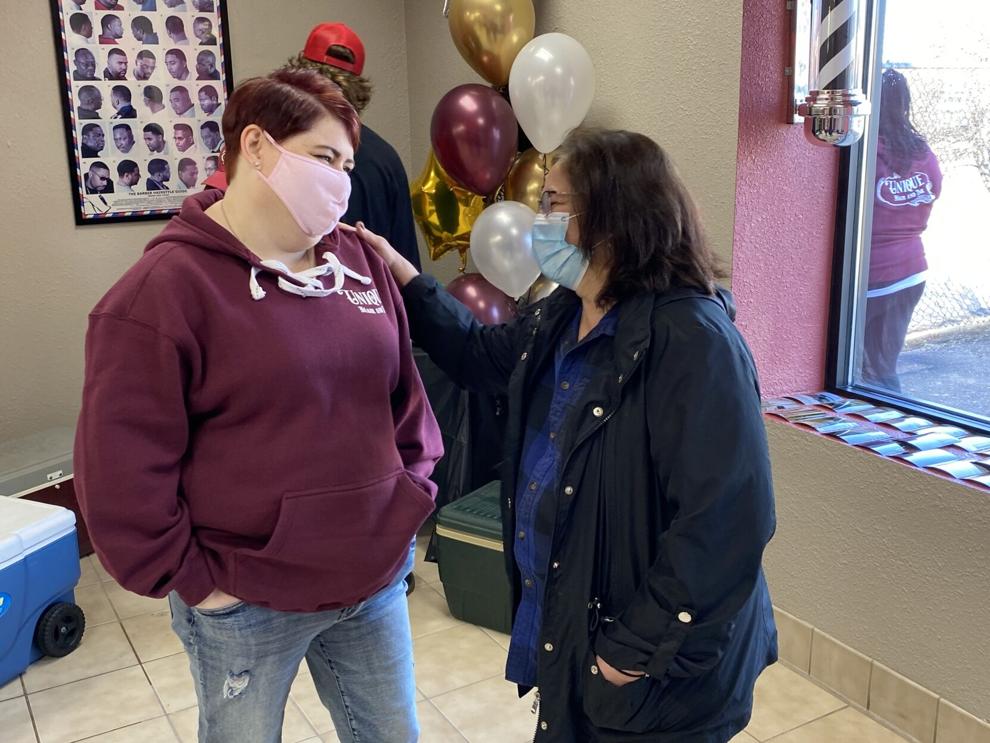 "I got into trouble and did time in solitary confinement," Cruz said. "I needed to try to find something that could take away the negative feeling of always being caged. I got into drawing and excelled."
Cruz relocated to Minnesota in 2010 and got a job at a construction company in Sleepy Eye. Life was looking up when he was pulled over by police in Lake Crystal in 2012 on an old assault charge. He was extradited to Texas and spent 18 months in prison there. When he was released, he moved back to Minnesota, running his own construction business with a friend and partner while living in Fairmont.
When his partner permanently injured his back, Cruz started working for his old employer in Sleepy Eye and later moved to Mankato. Throughout this time, he continued drawing and designing tattoos. He began to amass clients, develop a following and soon caught the interest of a few tattoo shops in the Twin Cities.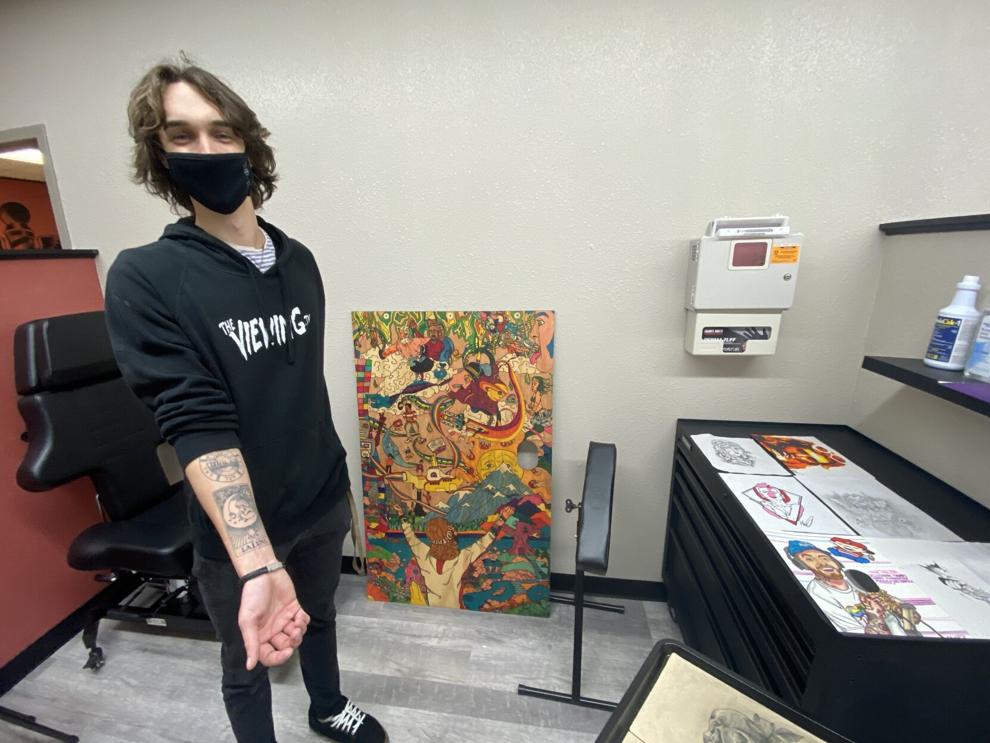 But the daily three-hour commute just wasn't realistic. While in St. Peter one day, he stopped in at Impulse Tattoo to speak with the owner.
"I showed him my work and he said, 'I'll take you on as an apprentice,'" said Cruz, who worked there for the past couple years. His last client at Impulse Tattoo was just a couple weeks ago.
"Now I'm over 500 clients," Cruz said. "It's a gift from God. To where I'm at today and the people that I'm around versus what I once was and the people I was around, it's a 100% difference. So, I'm here, I'm ready to tattoo and I'm very passionate."
On Saturday, Cruz and the Clarks reflected on how far they have come; it was just a year ago when they began discussing the idea of opening Unique Hair and Ink.
When Cruz and the Clarks acquired the location for the new business last fall — an old Papa John's restaurant at 826 S. Front Street in Mankato — they knew they had their work cut out for them.
"It still had a pizza counter in it when we took over occupancy," Jennifer Clark said. "There was stuff hanging from the ceiling — we basically gutted the whole building — but the shell was perfect."
She said Northside Hair Co., which had doubled as a barbershop and salon, will become a salon entirely, while Unique Hair and Ink will feature the barbershop. They plan to ease their clients into the change slowly for the time being and will begin seeing customers at Unique Hair and Ink starting Tuesday.
Cruz, who had already served a couple customers by Saturday afternoon, hopes his story will inspire others not to give up no matter how far they've fallen; and that it's never too late to find your passion in life and to make positive changes.
"There is a success story in every one of us," he said. "Growth is possible. Change is possible."