For 1st. Sgt. Dan Toleno, the highest ranking enlisted member of the 492nd Engineering Company based out of Mankato, the unit's deployment to the small nation of Djibouti in east Africa is significant. It will be his last mission as a member of the armed forces before his retirement after 27 years of service when they return home next summer.
"Just to be part of 492 is exciting for me, and to serve with the caliber of soldiers we have in this company," Toleno said. "It's an honor and a privilege; I'm just thrilled to be a part of this."
Over 100 soldiers from the unit have spent the last month at the armory in Mankato preparing for this deployment. They leave Monday for a few more weeks of training at Fort Bliss, Texas, before making the 17-hour flight to Djibouti settling in at Camp Lemonnier, the U.S.'s only permanent military base in Africa.
Their mission involves building military structures and improving roads, along with joint operations with the Djiboutian military where they will construct base camps for those soldiers to train at.
"It's really a dynamic mission and there's a lot to it," Toleno said "It's going to be a lot of opportunities for successes there. We're going to be spread over lots of different areas doing a lot of different things. Our guys are extremely prepared for the challenge, and are looking forward to it."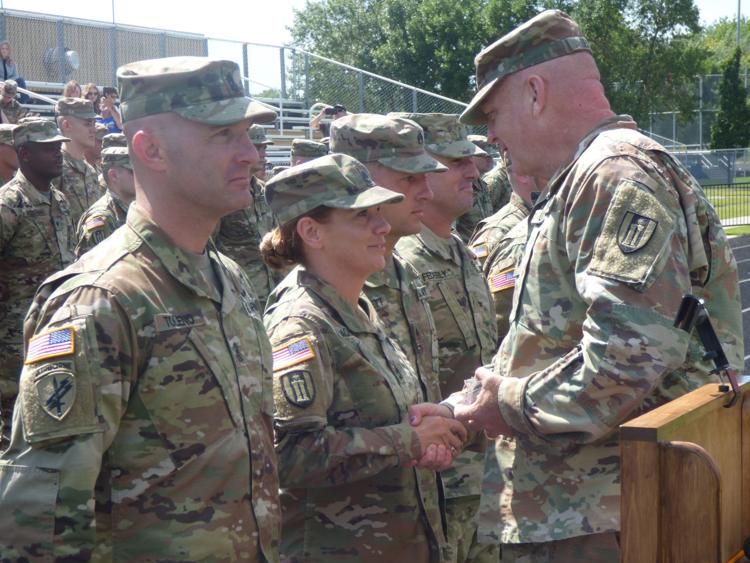 Toleno said some soldiers will also venture into Somalia. Engineers in the unit will be scattered throughout Djibouti, a country of 956,000 people covering an area slightly smaller than the U.S. state of Vermont.
Djibouti is near the Gulf of Aden just south of the Red Sea, bordering Somalia to the south, Ethiopia to the west and Eritrea to the north. The U.S. State Department calls the country "a partner on security, regional stability and humanitarian efforts across the region."
The unit includes vertical engineers who build structures above ground and horizontal engineers who build roads and runways. Many of those deployed work in the trades as carpenters, electricians, masons and plumbers. Others will operate heavy equipment like bulldozers and scrapers.
"One of the projects we have is building a weapons range complex," Toleno said. "So that will be a lot of dirt moving, creating berms and clearing areas where we're building base camps, range complexes, berms around base camps with our big horizontal assets, which are dozers and scrapers."
Most of the unit is from southern Minnesota, although some have transferred in from as far as Texas. It includes soldiers who are as young as 18 on up to the oldest in his late 40s.
It will be Platoon Leader Michael King's first deployment. King grew up in Austin but came to Mankato for college. After basic training he commissioned out of Officer Candidate School two years ago. He said while separation from family is going to be tough, they have been very supportive.
"I've never been out of the country before, so it's a way to get out and explore the world," King said. "It's awesome to be fighting against terrorism in a way that can be meaningful for the people who actually live there."
Sgt. Daniel Minor moved to Mankato for classes at Minnesota State University. His first deployment was to Iraq in 2016. The mission to Djibouti will be his second. He joined the military after his wife graduated from basic training. Since he learned he was going, he's been reading up on the climate, what to expect and the cultural norms of the country.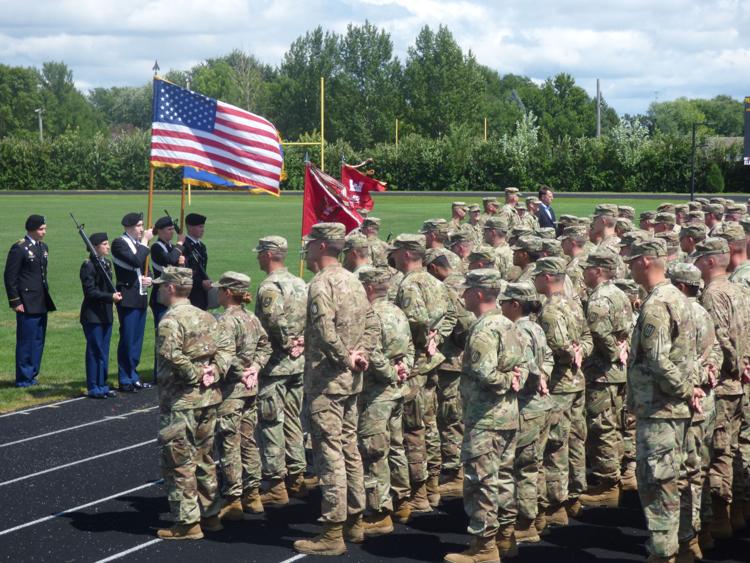 "It's exciting and difficult," Minor said. "You get a lot of nervous energy just getting ready to go and now the day is here."
The yearlong mission will be Mankato native Staff Sgt. Adam Owing's fourth deployment since he joined the unit back in 2002, when it was called Bravo Company. He's been to Afghanistan once and Iraq twice over the years. He said he was happy to see such a high turnout for the ceremony, with hundreds of people gathering in the bleachers at East High School's track field to see them off.
"It makes you feel good knowing you have people behind you, supporting you," he said.
For Nickolas Yess, the fact the ceremony was held at a school he attended was significant.
"I actually went to high school at Mankato East," he said. "It's definitely special being able to come back and having the send-off here."
Yess, like the rest of the unit, found out about the deployment last December. It's his first deployment, right out of basic training.
Once they arrive in Djibouti, the soldiers will receive their first in-country briefings. They'll have an acclimation period where they'll get used to the time zone, get on the right sleep schedule and settle into their housing units.
Toleno said once they're settled in they plan a relatively quick transition into working.
"Downtime is just a long time for soldiers," Toleno said. "So the more work we do the faster time goes. Time will go by fast, and this time next year we'll all be back home."