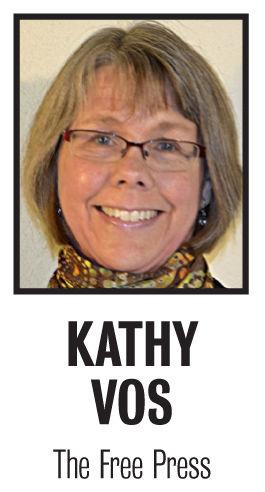 The subject line in the email from reader Barb Eide was "Visitor" and what a finely dressed visitor it was.
The red fox sat in the yard on the 700 block of Belgrade Avenue like he or she had nothing better to do that January day. Barb was nice enough to send us a photo.
She obviously had the presence of mind to stay calm and not scare the animal away as she snapped the picture. I was not so lucky during my encounter with a fox in my North Mankato yard a couple of years ago. Never got a shot.
It was a Saturday morning in early spring when I spotted the visitor. The timing was perfect because my sister Terri was over, and the two of us have established a tradition of giving each other fox items because our last name of Vos means "fox" in Dutch. (Note: This is not to be confused with the two "s" spelling of Vos, which is a waste of a letter. No "Voss" water, thank you. My family members are so used to the "s" confusion that when we spell our name, we automatically say at the end, "Just one 's." One time a receptionist asked a sister, "Are you sure?")
So the fox gifts have meant a Snooty Fox Tea Shop mug from Duluth for me. For my sister it meant a print by Lake Crystal artist Malia of a fox dragging an afghan. We teamed up for a niece's baby shower to go whole hog on the fox theme: a fox newborn cap, sleepers decorated with foxes complete with little fox feet, a "Fox in Socks" Dr. Seuss board book, and, of course, a six-pack of Vos beer for the father-to-be. (That reminds me, another favorite gift came from my beer expert friend who once surprised me with a monster bottle of Rare Vos. You rock, Tim.)
When I saw the fox that day out my kitchen window, I loudly whispered, "Look, Terri, look! A FOX!"
It was so close to us on the other side of the window, we didn't dare make a move for our phones/cameras.
We were mesmerized watching it walk down the neighbor's hill and into the backyard. After a few minutes, the fox sauntered back toward the brush and we thought it was moving on. My sister went to get her coat for our shopping trip.
Then it happened. As I glimpsed out the office window, a rabbit shot out from under the neighbor's deck and under my porch steps. Almost.
A step away from scrambling to safety, the bunny was literally stopped in its tracks as the fox, barreling from the hillside brush, snatched it up by the neck.
I didn't hear the rabbit scream if it did. I instead was too busy tapping into my inner Elmer Fudd and repeatedly yelling across the house at full volume: "He's killing the WABBIT! Come quick!"
Terri and I watched in awe — and horror. Those Disney people have it all wrong. That rabbit refused to die and that fox refused to stop trying to kill it. There were no butterflies and birds swooshing playfully around the scene.
Finally, the fox clamped its teeth around the bunny's neck and dragged his prey away into the woods. A bit shook up by the reality of nature at work, we comforted ourselves by saying that the fox was probably returning to a den to feed the cute, fuzzy fox pups.
We chose to ignore the fact that someday those cute pups would grow up to be cold-blooded killers — and instead went shopping to look for baby quilt material, of course, with a fox print.
Kathy Vos is news editor and can be reached at kvos@mankatofreepress.com.