It was perhaps telling when a group of all white journalists met with about a dozen people of color, and each took seats on their own side of the room.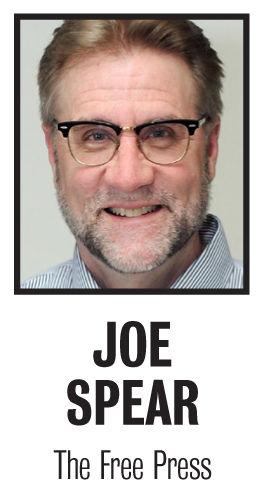 Maybe it was a way for each of us to hold on to our comfort zones in what could be an uncomfortable meeting.
The Free Press asked leaders of racial diversity efforts at the YWCA to gather the group so we could hear how people of color feel they are portrayed in The Free Press. The group included a variety of people, from social workers and lawyers to working people and college-educated professionals.
Our job was to listen. And we heard plenty. People of color are portrayed mostly negatively in The Free Press. We show "dangerous black people" in crime stories with no balance showing positive stories for people of color, while white people are portrayed positively in feature stories on a daily basis.
When people comment on stories on our Facebook page, there's a subtle racism running through some threads. People of color are rarely quoted as experts in stories even though many come from a broader perspective of being a person of color living in a mostly white world.
A mugshot of someone convicted of a crime with a short headline can create a racial narrative that is not there. Daily reports of the same type of story can create "racial optics" that again, transfer all too easily to an entire race.
What are the answers?
First, we need to educate ourselves in some ways. We have to acquire "cultural competency" that gathers more information about a culture before we can write about it. That may mean knowing that Somali refugees run from police because in Somalia, you didn't survive if you didn't run from police.
It might mean knowing a refugee with little English speaking ability didn't know how to secure a car seat for their child.
Because most news organizations employ mostly white people, we need to proactively seek out viewpoints of people of color. We won't absorb that from our environment because even when we go home, our neighbors are 85 percent white.
We have to think about words we use. The term "minority" has less dignity that other words that could be used.
What can be done?
We take seriously the idea of inequity in our coverage and so we met as a newsroom after our meeting with the people of color and came up with some strategies that seem more fair and more proactive about showing the good and bad of all races as equally as possible.
So we'll try to provide context when someone does bad things. If a baby rolls out of a car seat, we'll try to find out from friends, social workers or police if there was a bigger context that involved language and education before we leave a void of facts and allow our readers to assume the worst.
Racist graffiti should be explored and racist words and terms should be fully explained.
We should reconsider some caveats that can be laced with subtle racism. Low income, for example, does not mean low skill.
When we consider weekend stand-alone photos that usually highlight a community celebration, we'll look harder for ethnic and indigenous events, knowing that a picture of people of color at celebrations equals positive reactions from readers.
We'll do our best to publish ethnic events in our calendar (We need help finding out about them. Email us at currents@mankatofreepress.com)
We'll write about racism in the news and condemn it on the opinion pages.
We've created a list of people of color who can act as sources for a number of stories and experts on stories not about race. We'll seek op-ed opinion pieces from people of color.
We've already posted a new commenting policy on our Facebook page that says in part: "We reserve the right to remove comments that are false or include information that has not been vetted by officials or appropriate sources. We also will remove hateful and libelous comments, threats or comments that are racist, sexist, mean-spirited or demean individuals in other ways.
We reserve the right to ban users who do not follow the rules."
We appreciate the overwhelmingly positive feedback readers have given us on this.
And we appreciate the people of color who have come forward to suggest how we can provide more equitable coverage in a world that seems to becoming more inequitable.
Joe Spear is editor of the Mankato Free Press. Contact him at 344-6382 or jspear@mankatofreepress.com. Follow on Twitter @jfspear.