It was hot outside, but the air conditioning was working fine inside the St. Clair gym on Wednesday night.
Ten girls basketball teams were competing, working on jump shots, offensive sets and one-on-one defense.
It was fairly mundane stuff, but since there was no summer-league basketball last year, it also seemed a little more exciting, with players and coaches happy to have postgame handshakes replace those awkward pandemic waves.
The shortened high-school basketball season was a nice step forward in the battle against COVID-19, but the masks were a constant reminder that trouble could occur at any moment, canceling games and pausing seasons.
Some of those disruptions came at the worst possible time, stopping potential playoff runs before they even started.
Hopefully, with those virus-mitigation efforts having been effective, the season for boys and girls basketball will return to normal in November.
One of the first steps is summer league. The six-week schedule for the girls began Wednesday, and a three-day event for boys will begin this week at Bethany Lutheran.
Some teams and players aren't competing yet because their high-school spring teams are still playing in section tournaments, but that's a much better reason to miss games than an out-of-control virus. There were no masks; hopefully, they'll never again have to wear masks during competition.
One of the highlights of summer leagues is to get a look at last season's best younger players, seeing how they've improved.
Minnesota Valley Lutheran's Abbie Riederer will be one of the top-scoring guards in the area, perhaps challenged by St. Clair's Kayli Hinze. Both showed in this first game that they have been working hard to develop their skills.
New Richland-Hartland-Ellendale-Geneva is back in the local summer league, and the Panthers' up-tempo offense and pressure defense will cause plenty of problems for opponents next season.
Another fun thing about summer league is seeing players who didn't make it onto the court in varsity games last season, trying to make a summer impression on their coaches. These young players will no doubt fill vital roles in the upcoming winter season, and the summer games are important steps in that process, learning systems and playing hard.
It was nice to see some familiar faces are still coaching, and it's good to see a few new ones, willing to give their summer time to help the athletes improve their skills. It might be lost on many, but coaches also had a tough time during the pandemic, trying to keep their athletes healthy and active, while taking certain risks with their own health.
Not all of the teams from pre-pandemic summer leagues have returned, as some kids found other things to do in the summer. But there are enough familiar teams to rekindle relationships between players, coaches and officials.
The squeak of sneakers, coaches barking instructions, officials blowing whistles.
It was all kind of normal, but normal rarely has felt that good.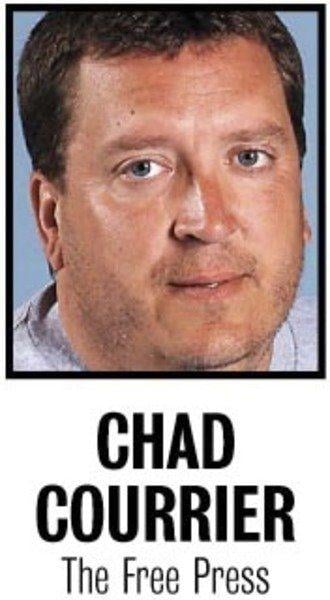 Chad Courrier is the Free Press sports editor. He's at 507-344-6353, ccourrier@mankatofreepress.com or on Twitter @ChadCourrier.