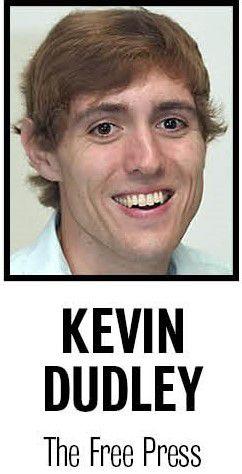 When it comes to big-time sports, we generally just take the athletes' conditioning for granted.
After all, they amaze us so much with their physical gifts, it's hard to imagine them not being where they need to be physically.
Through no fault of their own, that's what's happening to the Minnesota State men's hockey team this season, and it's certainly not a good development.
In college hockey, the schedule is built around playing back-to-back nights each week, something all players get used to as the season goes on because the routine is the same each week — practice Monday through Thursday, playing Friday and Saturday.
For the Mavericks, that sense of routine has been completely shattered due to pandemic-related schedule changes. As a result, MSU has played a mere seven games.
Thus far, the Mavericks have only played back-to-back nights three times, and never in back-to-back weeks.
It becomes even more frustrating considering that essentially only one game was lost due to positive results at MSU.
Michigan Tech, Northern Michigan and the Milwaukee School of Engineering have all had to cancel or postpone games with MSU because of positive results within their respective programs, something that's understandable given the current state of things, but nonetheless unlucky.
Looking around college hockey, the Mavericks have been one of the more unlucky teams. Among teams currently ranked in USCHO.com's top 20, only UMass Lowell has played fewer games. While MSU has only played seven times, WCHA rival Bowling Green has played 14 times.
Just bad luck.
Coach Mike Hastings acknowledged that it's hard to get into a rhythm when the disruptions are this frequent, and it's a significant obstacle.
"We're not there yet. If you've watched the games that we've played, Fridays have been better than Saturdays," Hastings said. "We expend quite a bit of energy on that first night, and we're not where we need to be come the back-to-backs.
"I think the only way you get that is by going through it and experiencing it."
In the seven games we've seen, MSU has more than looked the part. There's high-end players at all three levels, and depth that allows them to come at opponents in waves.
For the next eight weeks, MSU is scheduled to play back-to-backs, all of which will be critical conference contests.
Let's hope they go off cleanly so we can finally see what this team looks like when it's in a normal rhythm.
Kevin Dudley is at kdudley@mankatofreepress.com. Twitter @Dudley7Kevin.