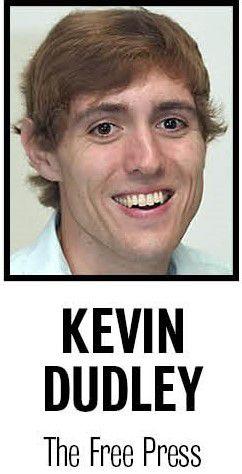 Due to the odd nature of the season, it's been harder to learn about the Minnesota State men's hockey team.
The lack of nonconference play, back-to-backs and home games make the sample size less meaningful, and the postponements and cancelations have made it much smaller.
At least some of those things are true for every team in the country, which has led to a lack of big games.
Looking at the original schedule, the Mavericks would've played nonconference games against Minnesota Duluth, St. Cloud State and possibly even Minnesota.
The grind of the WCHA schedule would now be in full gear, and MSU would be experiencing the ups and downs that come with playing conference back-to-backs.
Instead, the Mavericks have only played six conference games, and have only played back-to-backs on consecutive weekends once. Coach Mike Hastings has talked about the importance of dealing with adversity — in-game and coming off tough losses, but there simply haven't been many chances to experience traditional hockey-related adversity.
That's what makes this weekend such a treat.
Unless COVID-19 intervenes, No. 6 MSU will get exactly the kind of series it needs against No. 8 Bowling Green on Friday and Saturday: a pair of high-stakes games against a top-notch opponent.
MSU (9-2-1, 6-0 in WCHA) and Bowling Green (16-4, 5-1) have each played six WCHA games, with the Mavericks currently two points ahead of the Falcons in the standings. Because of the pandemic, five of the league's teams have played less than six conference games, but the picture is still pretty clear.
The MacNaughton Cup is almost certainly going to one of these two.
When looking at the Falcons, the sheer number of games immediately pops. They've played 20 games, while MSU has only played 12. Coming into this weekend's matchup, the Falcons have played back-to-backs in five straight weeks.
"I learn most about our guys in games, we might be able to throw in a wrinkle here and there as far as adjustments, but the guys are playing the games," Hastings said. "When you have an opportunity to play games, I think it gives you an opportunity to look in the mirror ... they've played more games than anybody else in the country."
Playing a team of Bowling Green's caliber is always hard. The Falcons have depth and high-end talent at all three levels, and given the recent schedule, they could very well be in better game shape than MSU.
Last week in a nonconference game at Bemidji State, MSU lost 4-1 in what was arguably its worst performance of the year. Key players like Reggie Lutz, Todd Burgess and Riese Zmolek missed the game with injuries, and Jake Jaremko left the game due to an injury.
Those players have skated in practice this week, but it's still uncertain if they'll be able to play.
Given the quality of the opponent, the stakes, the Falcons' games played advantage and what happened last week, it seems safe to say MSU is facing by far its biggest test of this weird season.
That should make for some great hockey.
Kevin Dudley is at kdudley@mankatofreepress.com. Twitter @Dudley7Kevin.