Jeff Chambers' brainstorm came long before concussions moved from the sports page to the front page, long before brain injuries became a major concern in football and other contact sports.
It was 1997, and Chambers was the head athletic trainer at the University of Wisconsin-Oshkosh. He was trying to find a way to help one of the football players at that school deal with stingers — also called burners — a shooting pain and numbness of the arm resulting from a hit to the head.
Chambers thought some kind of collar might help, one with some air or padding in it for cushioning, but he couldn't find one that would work.
He never stopped thinking about it, though.
This week, more than two decades after he first started thinking about it, Chambers and his Mankato-based company, Guardian Athletics, will begin shipping a collar of his own design. Called the Kato Collar, it's a piece of protective equipment designed to reduce the risk of concussions, as well as stingers and burners.
"We're trying to slow down the helmeted head," Chambers said. "We're trying to slow down the brain inside the skull and slow down the forces and mechanisms that cause concussions after the impact of a hit."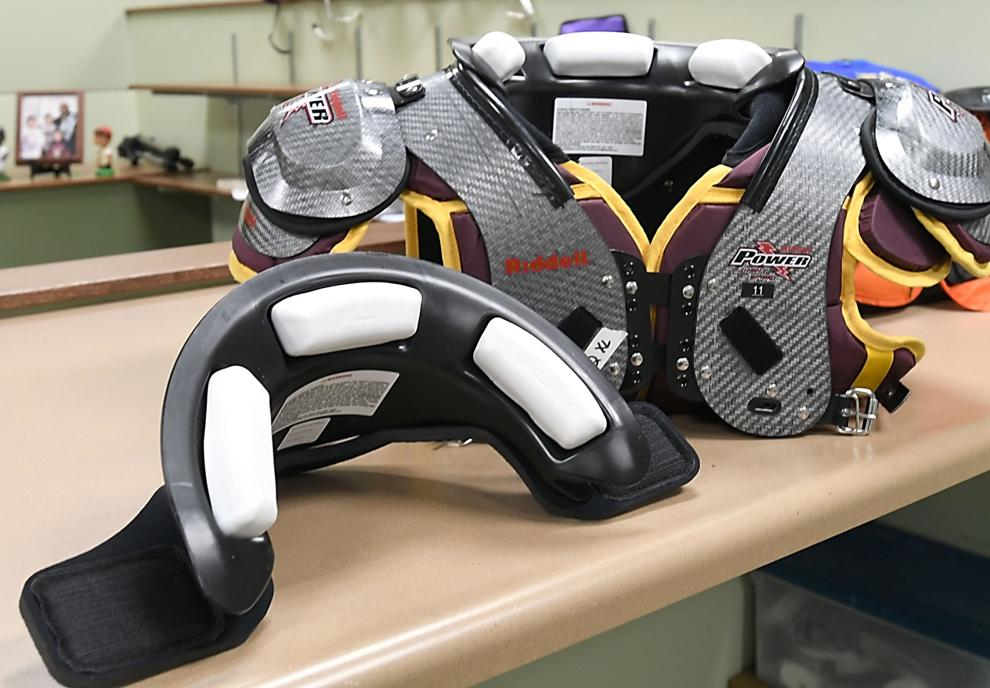 Chambers is not claiming that the collar will eliminate concussions, but, he said, it will act as a kind of airbag for the brain, reducing deceleration forces after initial impact that are believed to cause concussions by 30 percent.
The collar was tested at a biomechanical testing lab in Maryland that specializes in sports and military equipment.
"I vetted it out for about 10 years," said Chambers, who was a certified athletic trainer at Minnesota State University for 18 years, including 15 years covering Mavericks football. "I watched injuries and collected information. In the back of my mind I thought I had a collar idea that will work better than anything out there."
The lightweight, flexible collar attaches to a football player's shoulder pads and has thick, foam pads to "cradle" the helmet and absorb high-impact hits.
Unlike other collars, Chambers said, his allows for full range of motion of the head, so it doesn't obstruct a player's normal movement in a game. Players will be able to keep their head up at all times.
"It's a device for any (football) position," he said. "It's really for any helmeted activity: extreme sports, hockey, lacrosse, bull riding, even the military."
Chambers said athletic trainers are creative people who sometimes hand-make pads or manipulate existing equipment to better serve injured athletes, so it was just in his nature to keep thinking about the collar over the years, especially as he dealt with more concussions.
"I've created all kinds of pads," he said, "ankle pads, pads for AC joints. We do that all the time."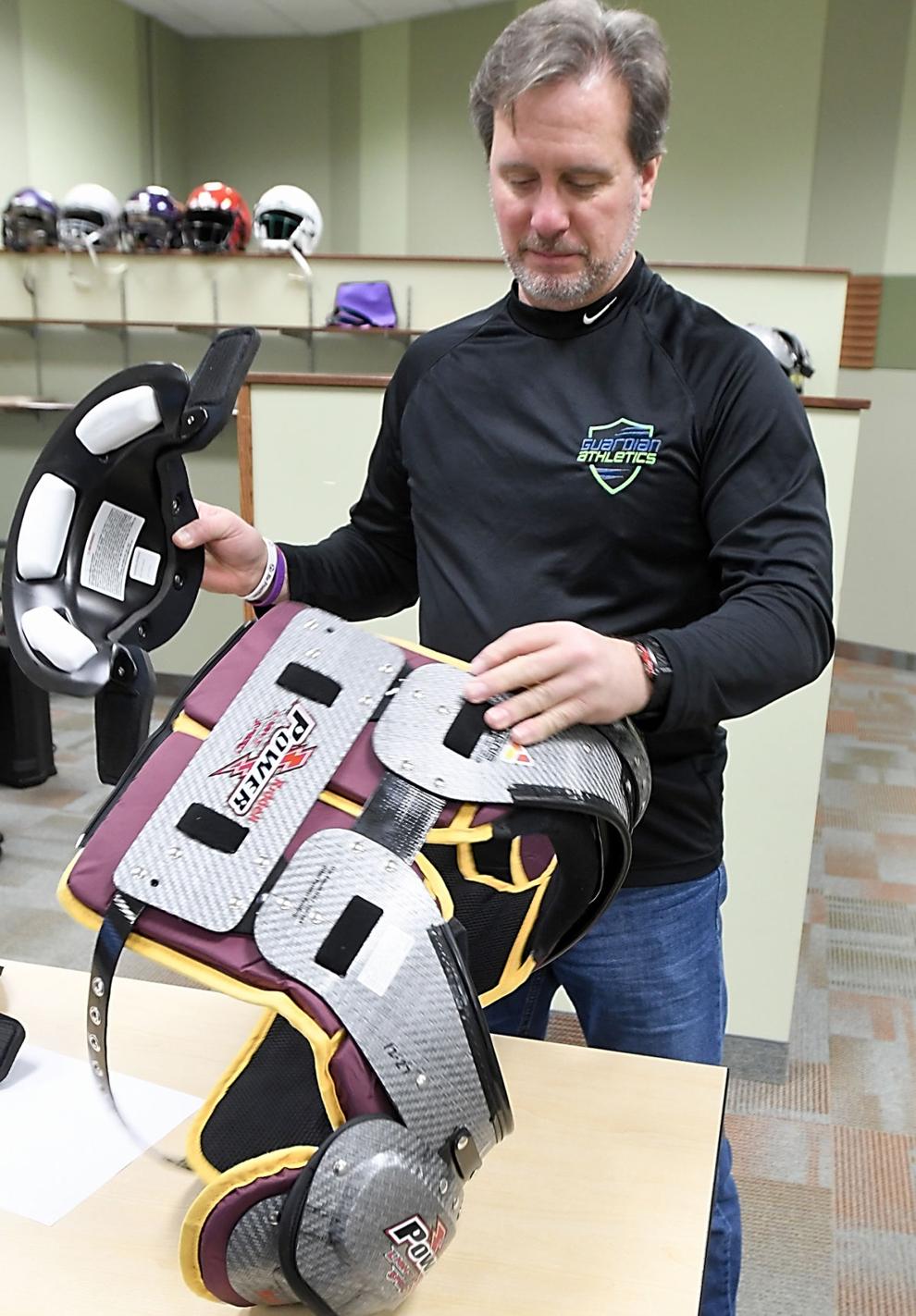 About 10 years after first thinking about the collar, he started reaching out to equipment manufacturers and telling other people about his idea, hoping to figure out how to make it work. An entrepreneurial class at MSU took it on and created a business plan for Chambers. In November of 2007, that plan won a Brian Fazio Business Creation Project award from Greater Mankato Growth, and what would become Guardian Athletics got $5,000 in seed money.
Chambers got to work. He sought investors and designed five prototypes before settling on the current model. In 2014, he received a patent for the Kato Collar. Chambers is the founder and chief executive officer of Guardian Athletics.
He was also the lone employee until bringing aboard Dave Norris as chief operating officer and Todd Tanhoff as president and director of sales about a year and half ago. Chambers left the University last October to concentrate on the business full-time.
"He just kept grinding away," Norris said. "It's a testament to how important this is for him. … His concern for the safety of student-athletes has never changed. It's a passion for him."
Guardian Athletics has about 1,000 Kato Collars in stock and already has pre-orders for about 100, Norris said. The plan is to market to college and high school programs to start, since the collar only fits large sizes. However, next month, Guardian plans to launch a crowdfunding campaign on the website Indiegogo to raise money for the design and creation of a collar for youth players.
Chambers said he can't predict whether or not his collar would ever become a mandatory piece of football gear but believes it is a piece that — combined with proper training and continued innovation — fills a much-needed gap when it comes to player safety.
And bridging that gap, he hopes, will keep kids playing football.
"Football is America's game," he said. "There are tight communities built around football. Friday night lights, Saturday NCAA, Sunday NFL. … How can we make the game safer so kids can play the game they love? Kids want to play."
The Kato Collar sells for $249.99 and is available through Guardian Athletics' website, guardianathletics.com.