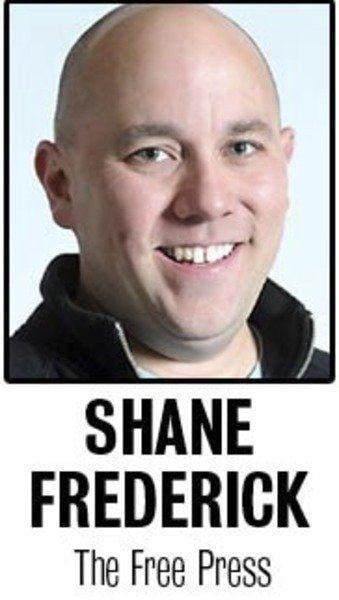 The ice, it seems, goes in at what we're now calling the Mankato Civic Center earlier and earlier each year.
Classes began at Minnesota State a little more than two weeks ago, and the men's and women's hockey players are already skating at the downtown arena where, if you listen closely, you might still hear the echoes of the crowd from the "Mankato Miracle," the MSU men's team's crazy comeback win over Bowling Green in the WCHA playoff championship game last March.
College hockey has a soft opening compared to many other sports, with limited hours for coaches and players to be on the ice together between the time school starts and the season's official start date.
And when that date finally arrives, it's already time to play games, whether they're exhibitions or real regular-season games that can carry great weight, impacting the field of a national tournament that's half a year away.
The women's season gets going on Sept. 21, and the Mavericks will begin play already the following weekend, on Sept. 27-28, when they go to New York to take on Rensselaer in a nonconference series. A week later, last season's WCHA champion and national runner-up, Minnesota, comes to Mankato.
The men's season starts Oct. 5, and Minnesota State will play an exhibition game right away that night, an important tune-up with two tough nonconference opponents, Arizona State and North Dakota, coming to town the following two weekends.
Expectations will be relatively high for both Minnesota State teams.
The women keep improving. They've gotten more competitive in the tough WCHA during coach John Harrington's first four seasons as they've recruited more talent.
Last season, the Mavericks had one of the best goaltenders in the conference in freshman Abbey Levy. This year, they bolstered that important position even more with one of the state's best high school goalies, Calla Frank of White Bear Lake.
Of course, only one goalie can play at a time, so improving goal scoring will be the key to a rise up the standings, as well as a winning season — something that's occurred just once in the program's 20-year history. The Mavericks allowed 2.60 goals per game last season — more than a full goal per game less than the previous year — but averaged just 1.83 for themselves.
On the men's side, hopes will be sky-high for a team that won a school-record 32 games last season and graduated just one player from its late-season lineup, the one that erased a 2-0 deficit to the Falcons in the final 1:44 of regulation in the conference title game before winning 3-2 in overtime.
With its top 13 scorers — notably, seniors Marc Michaelis, Parker Tuomie and "Mankato Miracle" hero Nick Rivera — and top goaltender — Dryden McKay — back, coach Mike Hastings' eighth MSU team should be his best.
The Mavericks brought in a talented freshman class and had good players who were healthy scratches down the stretch last March, so competition for playing time — competition that's certainly started already with the early ice time — should be fierce.
Minnesota State will be the no-brainer pick to win the MacNaughton Cup again as WCHA champions, but the belief is the team can do much more — not only to get back to the national tournament but to finally win a game there, if not more than one, and find its way to Detroit, site of next spring's Frozen Four.
That is seven months away, of course.
It might be hard to think about hockey when it's technically still summer, when the leaves aren't just still on the trees but are still green and when football season has barely begun.
But if it's a chill in the air you're seeking right now, all you have to do is walk into the civic center.
Shane Frederick is The Free Press sports editor. Call him at 344-6373 or email him at sfrederick@mankatofreepress.com. Follow him on Twitter @puckato.