Last season, the South Dakota School of Mines men's basketball team used an eight-player rotation, but four of those players graduated and three more had decided to transfer.
So Damani Hayes, the former Mankato East standout, started to look around at his options, and he found a home at Division I South Dakota.
"I felt like I would be in a better position to improve my skills," Hayes said. "And I thought I would enjoy playing somewhere else."
Hayes has decided to accept a walk-on offer from Division I South Dakota, where he will have two seasons of eligibility remaining.
Hayes, a 6-foot-4 wing, played in 60 games during his two seasons at South Dakota School of Mines & Technology, starting 55. He averaged 8.9 points and 6.3 rebounds as a true freshman, then averaged 6.8 points and 4.9 rebounds last season.
Mines was 29-31 in the last two seasons, including 22-22 in the Rocky Mountain Athletic Conference.
Hayes considered many of the Division II and III programs in Minnesota and Wisconsin before choosing South Dakota. He hasn't visited Vermillion, South Dakota, due to restrictions from the COVID-19 pandemic, but the Coyotes coaches recruited him through virtual tours and online meetings.
Plus, Vermillion is a couple of hours closer to Mankato than Rapid City, South Dakota.
"These are different times, but I feel like I made the right decision," Hayes said.
Since he's moving up to Division I, Hayes will have to sit out next season and will have two seasons remaining.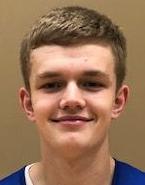 Hulke switches to UWRF
Nicollet senior Riley Hulke was set to go to Bethany Lutheran next season, but when coach Matt Fletcher resigned to take a job at Concordia-St. Paul, Hulke reconsidered his options.
"After the Bethany coach left, I wasn't sure what to do or who (Bethany was) going to hire," Hulke said. "The River Falls coach called the next day, and we talked a lot and formed a really good relationship. (The Wisconsin Intercollegiate Athletic Conference) is a really good league, and I think it's going to be fun."
Hulke, a point guard, scored 2,273 points in his career, along with 956 assists, 416 steals and 449 3-pointers. Last season, Hulke averaged 24.1 points and 9.3 assists.
Hulke's first-year roommate will be United South Central's A.J. Kloos. Hulke and Kloos played together on a summer team as 15-year-olds.
Baumgardner to Ashland
Former Minnesota State men's basketball player Tre Baumgardner has transferred to Ashland (Ohio) University.
Baumgardner, a sophomore point guard, is from Columbus, Ohio. He spent two seasons with the Mavericks, being limited to only seven games last season because of a serious knee injury.
Last season, Baumgardner started the first three games before moving to a backup role, averaging 5.9 points, 1.9 rebounds and 2.7 assists. As a true freshman, he averaged 7.4 points, 2.3 rebounds and 2.1 assists.
Minnesota State guards Corvon Seales and Franke Mack have both entered the transfer portal but haven't announced their decisions.
Follow Chad Courrier on Twitter @ChadCourrier.