Ryan Dufault kept dribbling to the left as the clock ticked down.
Defended well and pushed toward the sideline, he finally got to the corner and found some room to shoot as he approached the left baseline. From 10 feet away, he rose up, and his left-handed shot was true.
The basket, with just 2.3 seconds to play, won a state championship, the first for Waseca since 1918.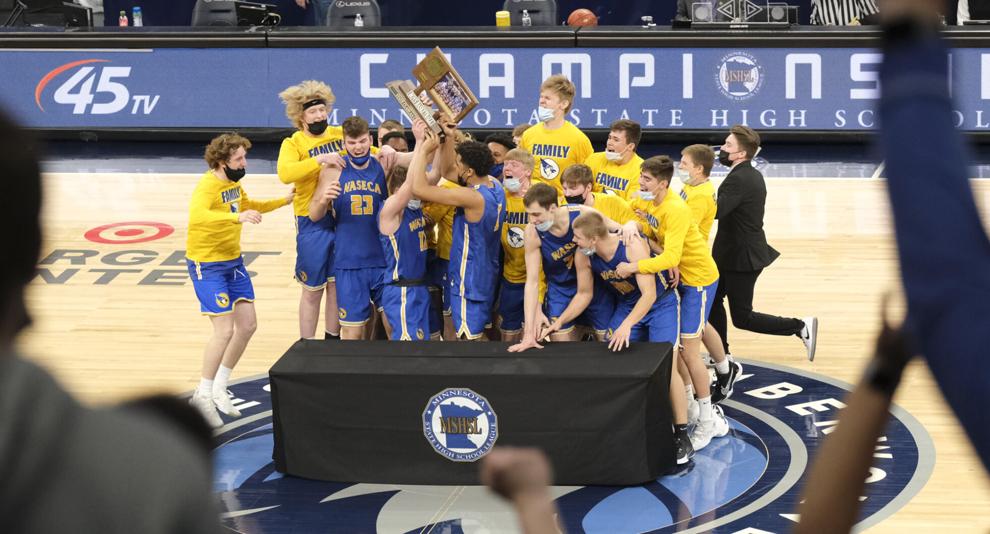 "This means everything," said Dufault, a senior point guard. "This is something I've been working for my whole life. The school and the community of Waseca haven't had one of these in 103 years. I love playing with theses guys, and it's sad to end, but this is the best way to end it."
The Bluejays, who were the highest-scoring team in Class AA this season at 81.2 points per game, didn't come close to that while defeating Caledonia, which was averaging 79.3 points, 51-49 in the championship game of the Class AA boys basketball tournament Saturday at Target Center. The Bluejays were runners-up in Class AAA in 2019 and were favored heading into the section championship game last March when the pandemic shut things down.
Waseca is 78-8 in the last three seasons, but the headline is now a state championship.
"When you win a state championship, that kind of completes everything," Waseca coach Seth Anderson said. "We're not ashamed that we took second in 2019. We're not ashamed we got to the section championship last year. When you win a state title, you feel like you accomplished everything you could. Nobody can ever take that away from you."
The high-scoring game never materialized as both teams struggled from the perimeter and also had trouble getting to the rim without taking some contact.
The Bluejays shot 33.3% in the first half, making only 5 of 21 from 3-point range, while Caledonia (23-2) hit 4 of 14 from deep, connecting on 40.0% from the field in the first half.
"Caledonia doesn't give you any easy baskets," Dufault said. "They're big and strong, and they make it tough. I'm one of the leaders so I knew I had to step up, and everybody else did their job, too.""
Dufault and Zach Hoehn each made 3-pointers as Waseca went ahead 12-4 early, but Caledonia had an answer, scoring 10 straight points to tie the game at 19.
Dufault had two more 3-pointers, including one in the final minute to give Waseca a 29-27 lead at the break. Dufault already had 15 points and three steals.
The pace picked up in the second half with five lead changes and one tie in the first 12 minutes. Hoehn hit a 3-pointer to make it 40-36, and Dufault scored three straight for a 46-43 lead with 5 minutes to play.
Waseca had a chance to gain some separation but couldn't convert at the free-throw line, and the game was tied with 34 seconds to play. After a timeout, and the ball was passed around, Dufault took the basketball at the top of the key and started toward the basket.
"We wanted to stall it out, but with eight seconds to go, we wanted the ball in Ryan's hands," Anderson said. "He's our playmaker at the end of a game. That's a shot that he works on in practice."
Dufault finished with 23 points, five rebounds and five steals. Andrew Morgan had nine points and eight rebounds. The Bluejays caused 20 turnovers and made 14 steals, including one by Hoehn in the final minute to give Waseca (23-1) its last possession.
"This was a game where you had to work hard to get the ball in the basket," Anderson said. "We made some tough shots, but I was really happy with our defense. When a game gets physical like that, you have to keep grinding and grinding."
Follow Chad Courrier on Twitter @ChadCourrier.