SIOUX FALLS, S.D. — This national tournament game seemed different for the Minnesota State men's hockey team.
The Mavericks finally got off to a great start, and when a potential game-winning goal went to review, they came out on the right side this time.
But at the end of the game Friday, Minnesota State was once again packing up for the season.
"Somewhere along the way it got lost," senior forward Zeb Knutson said.
Minnesota Duluth defeated the Mavericks 3-2 in overtime of the NCAA West Regional game with junior forward Parker Mackay scoring the game-winning goal at 2:28 of the extra period.
The Mavericks, who were the No. 2 seed in the regional, have yet to win a Division I national-tournament game and are now 0-5.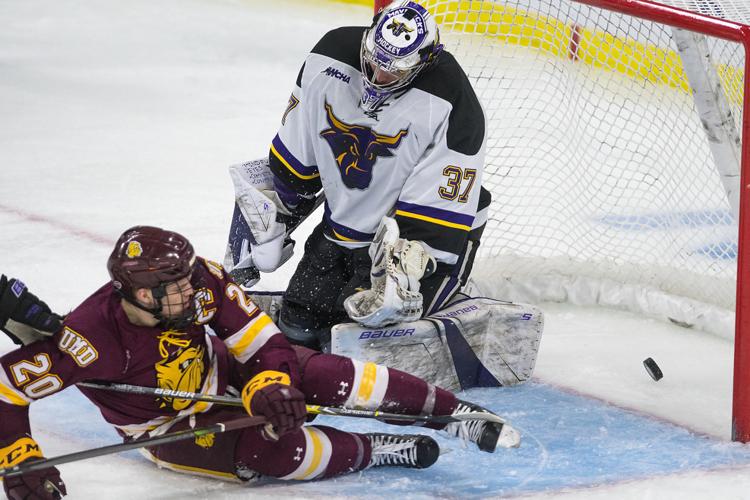 Before a Denny Sanford Premier Center crowd of 7,992 that included several hundred MSU fans, Minnesota State jumped out to a 2-0 lead in the first period. The Mavericks also got some new life in overtime after a Bulldogs goal 55 seconds in was disallowed due to goaltender interference.
"We couldn't find a way to extend it," Mavericks coach Mike Hastings said.
They had their chances.
With a 2-1 lead in the third period, freshman defenseman Connor Mackey hit a crossbar during a delayed penalty, and, later, Knutson hit the left post on a wide-open shot in the slot.
"C.J. (Suess) and Marc Michaelis did an unbelievable job on the forecheck there, and I was lucky to find myself open in the slot," said Knutson, who scored MSU's first goal. "I got good wood on it, got a good shot. It just didn't go my way."
Shortly after the disallowed goal in overtime, Nick Rivera fired his own rebound into what looked like an open goal, but teammate Brad McClure had fallen into the net and blocked the shot before it could cross the goal line.
"Just a tough break with him in the net," Rivera said. "Just an uncontrollable thing."
The Mavericks, who did not score a first-period goal in any of their previous three NCAA tournament games, got the great start with goals from Knutson and sophomore defenseman Ian Scheid.
Knutson, the Sioux Falls native, got things going in front of his hometown crowd just 2:21 into the game.
He took a nice chip off the boards from Michaelis, skated down the left side and fired a laser over goalie Hunter Shepard's stick-side shoulder from low in the left circle.
Scheid made it 2-0 with a power-play goal at 6:37. He ripped a low shot through traffic from the high slot, just inside the blue line. Reggie Lutz and McClure assisted.
Minnesota Duluth slowed them down after that though, holding the Mavericks to zero shots on goal in the second period while getting one of its own. Karson Kuhlman scored it at 6:38 on a partial breakaway after taking a bobbling puck off of defenseman Daniel Brickley's stick.
"After we survived the second period — that's really what it was; we survived it — and we still had a lead, I thought the guys did a good job of coming back in the third and regrouping. We played a much better third period."
They did, but a Suess penalty with 5 ½ minutes remaining in regulation led to a Nick Swaney power-play goal that tied the game with 4:08 remaining and forced the eventual overtime.
"I felt like after coming out of the locker room our spirits were up and that we were ready to go in the third," Suess said. "For the most part we did a good job. We came out, played our game and got some shots on net. It just didn't end up the way we wanted it to."
Fifty-five seconds into overtime, the Bulldogs had what they thought was the game-winner by Swaney. While they celebrated, officials checked the replay, and determined that UMD defenseman Dylan Samberg ran into Connor LaCouvee after making an initial shot. In 2015, Minnesota State came out on the wrong side of a review when an RIT disallowed goal was reversed upon review and ended up as the eventual game-winner.
LaCouvee finished with 19 saves, as did Shepard.
"We had our opportunities, didn't capitalize on them, and they deserve to move on," Hastings said.
Minnesota State ends the season with a 29-10-1 record. Minnesota Duluth will play Air Force for the regional championship at 8 p.m. today.