A stalled start 
Soon after the Minnesota State men's hockey team's season was ended by the onset of the COVID-19 pandemic in March, 2020, preparation began for an offseason unlike any other.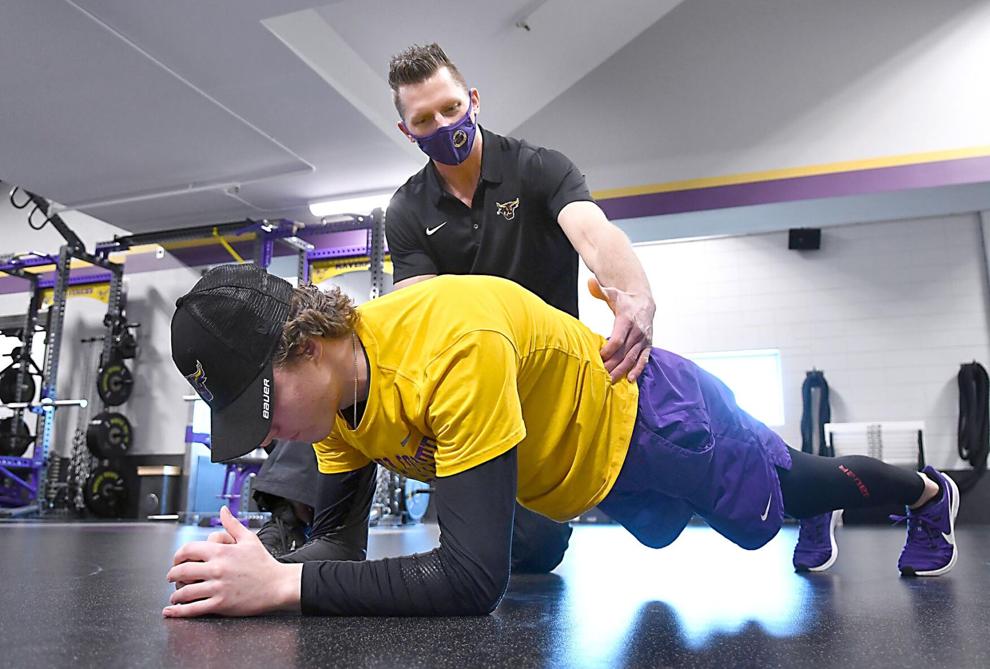 Strength and conditioning coach Tom Inkrott made individual workout plans for each player based on the equipment they would have available wherever they were spending their offseason, with most players leaving campus immediately after the season ended.
When summer rolled around, a handful of MSU players returned to campus for dialed-back team workouts and on-ice sessions, but it was nothing like the full-team workouts that normally occur in the summer.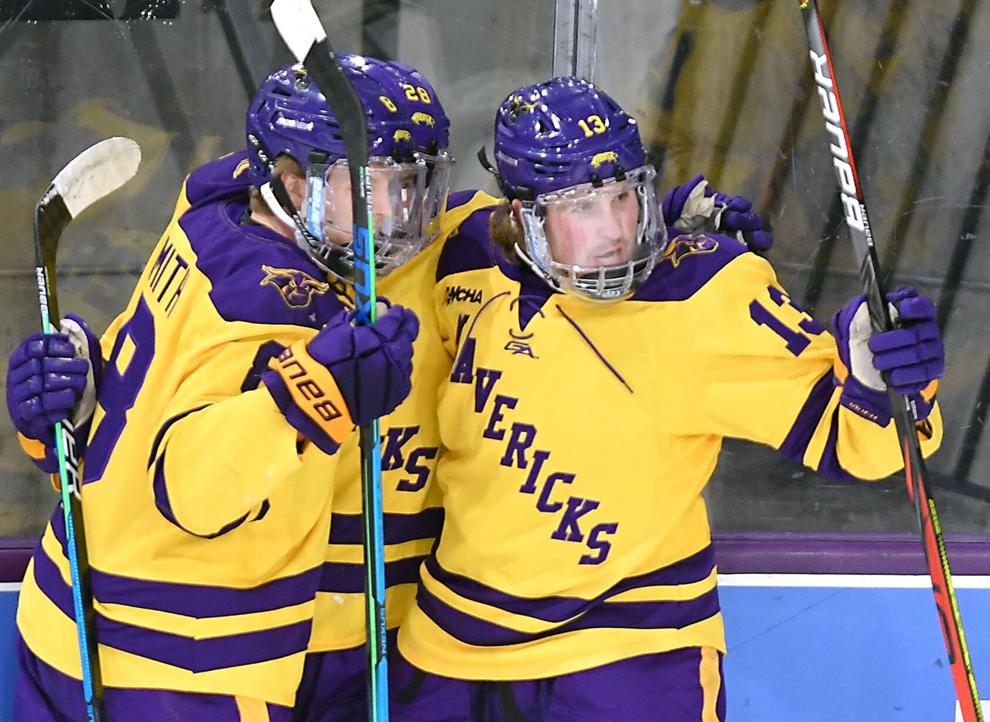 As the traditional start date for the season inched closer, it became clear that it was going to be delayed. The WCHA was trying to streamline all of its COVID-19 protocols, from testing to game-day procedures, something that proved to be a difficult task.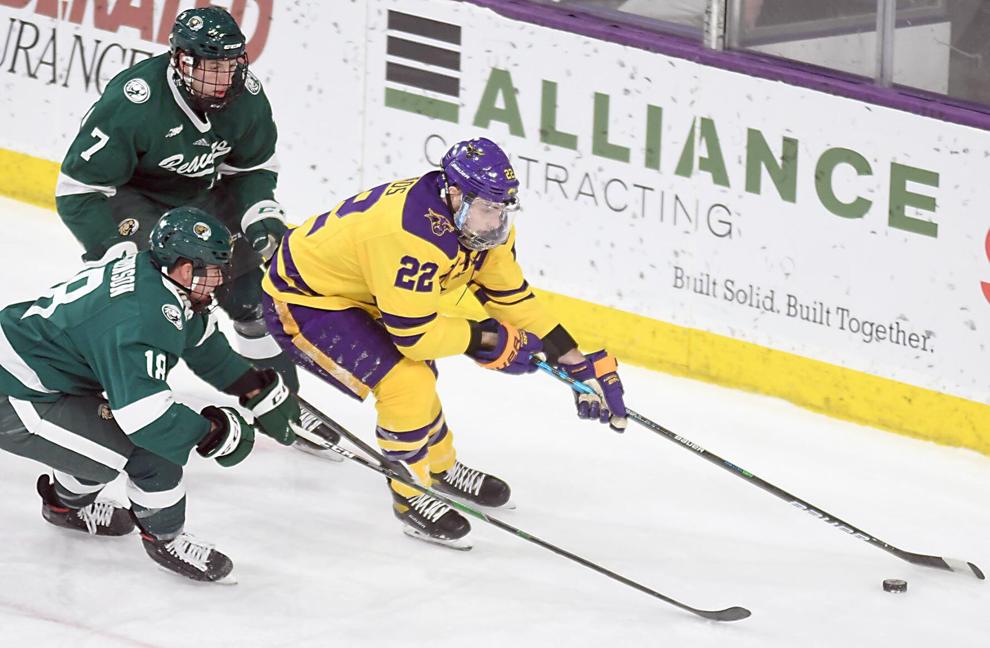 "The strategy is test, trace and isolate," MSU athletics director Kevin Buisman said in October. "The more that we can do the testing and then when we have positives, do the contact tracing and isolate those individuals ... the more likely we are to be able to move forward with competition."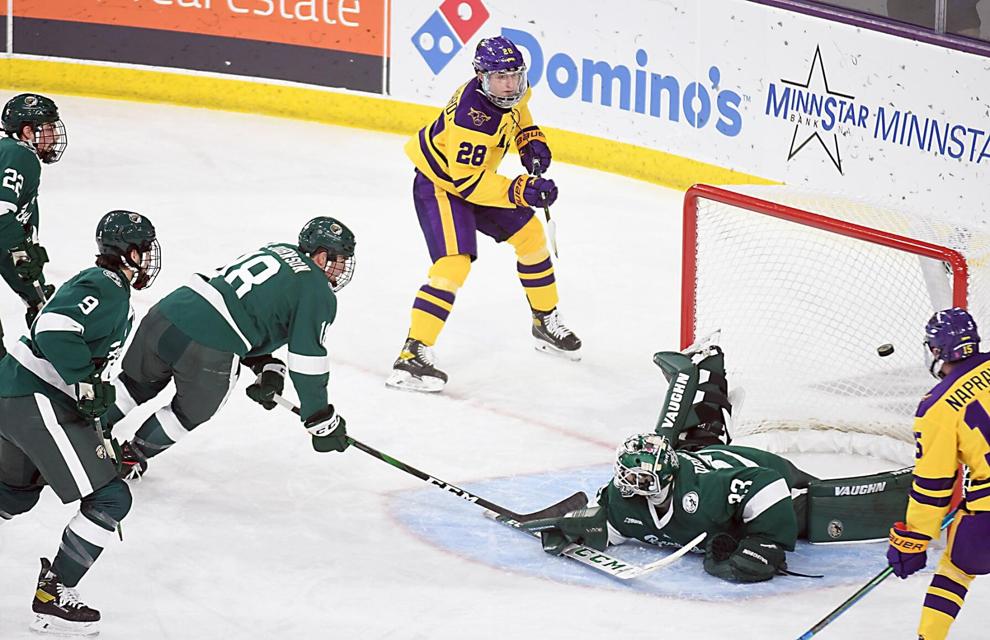 On Oct. 28, the WCHA announced an 18-game regular-season schedule, with almost all league games to be played in January and February. Teams were also able to schedule nonconference games, with most of those coming in November and December.
As part of MSU's safety procedures, it was announced that no fans, including parents and family of players, would be allowed into MSU games through the end of 2020.
A choppy schedule
Minnesota State's Nathan Smith looks for a way around Bemidji State's Jack Powell.
The college hockey season started amid a surge in COVID-19 cases, and the pandemic quickly touched Minnesota State's season.
A day after a dominant 5-0 season-opening victory Nov. 22 at Bemidji State, MSU learned it had positive coronavirus results within its team personnel, leading to a postponement of the second game in that series.
After a two-week quarantine, the Mavericks resumed the season Dec. 6 at Michigan Tech, but were unable to play Dec. 12-13 when first Northern Michigan, and then the Milwaukee School of Engineering, each had to postpone due to positive cases within their team personnel.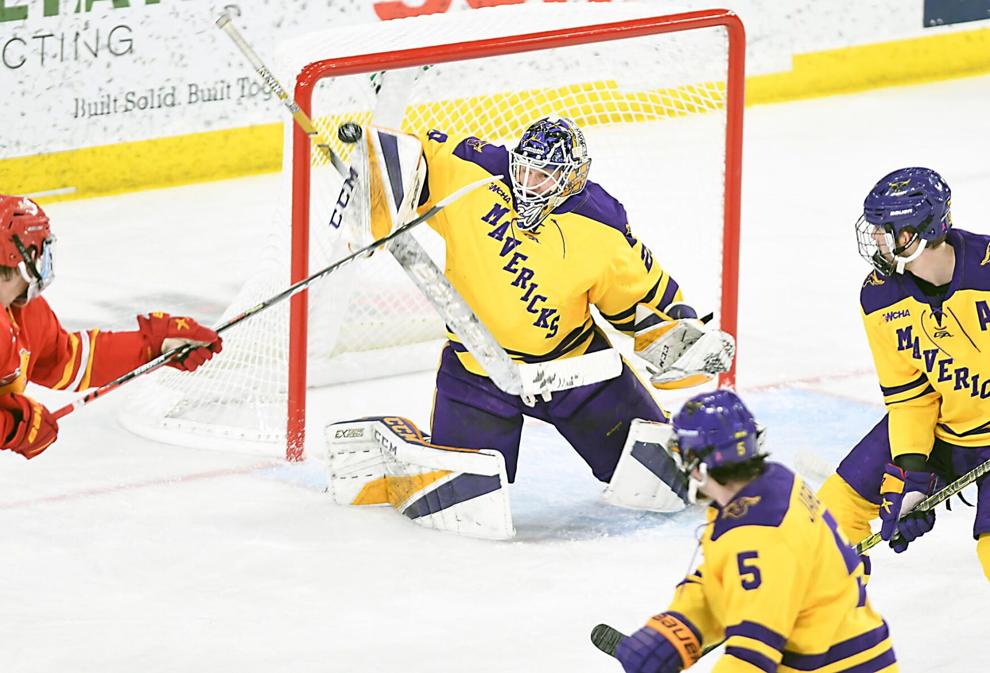 Prior to the holiday break, the Mavericks were only able to get five games played due to all the COVID-related disruptions.
A season that started with uncertainty wasn't going smoothly. The Mavericks weren't able to get into game shape because of the lack of games, and the mental toll was likely even more significant.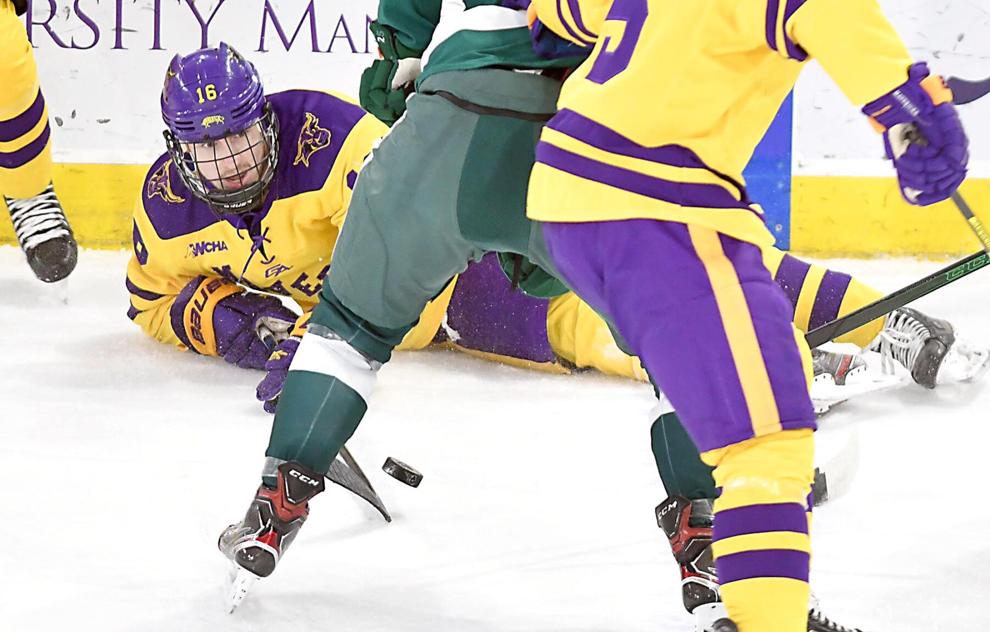 "You don't know what emotion they're experiencing daily," MSU coach Mike Hastings said in November. "I think a really big piece in this is making sure the lines of communication are open so that we can find out how they are really doing."
The Mavericks finished the first "half" of the season at 3-1-1.
Four MacNaughton Cups
and a Zero Hero
The Mavericks returned from the holiday break red hot, allowing only three goals in a six-game winning streak to start the second half of the season.
During the streak, goaltender Dryden McKay recorded three consecutive shutouts and posted a scoreless minutes streak of 2:17:37, the ninth longest in WCHA history and the second longest of McKay's career.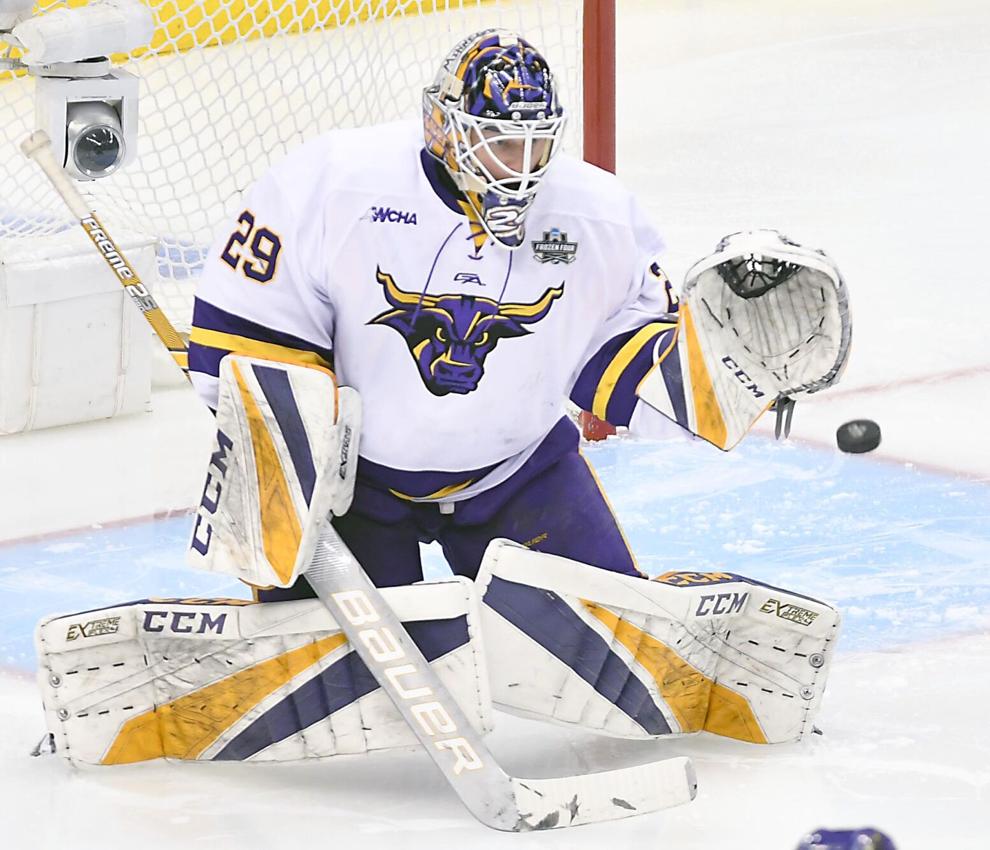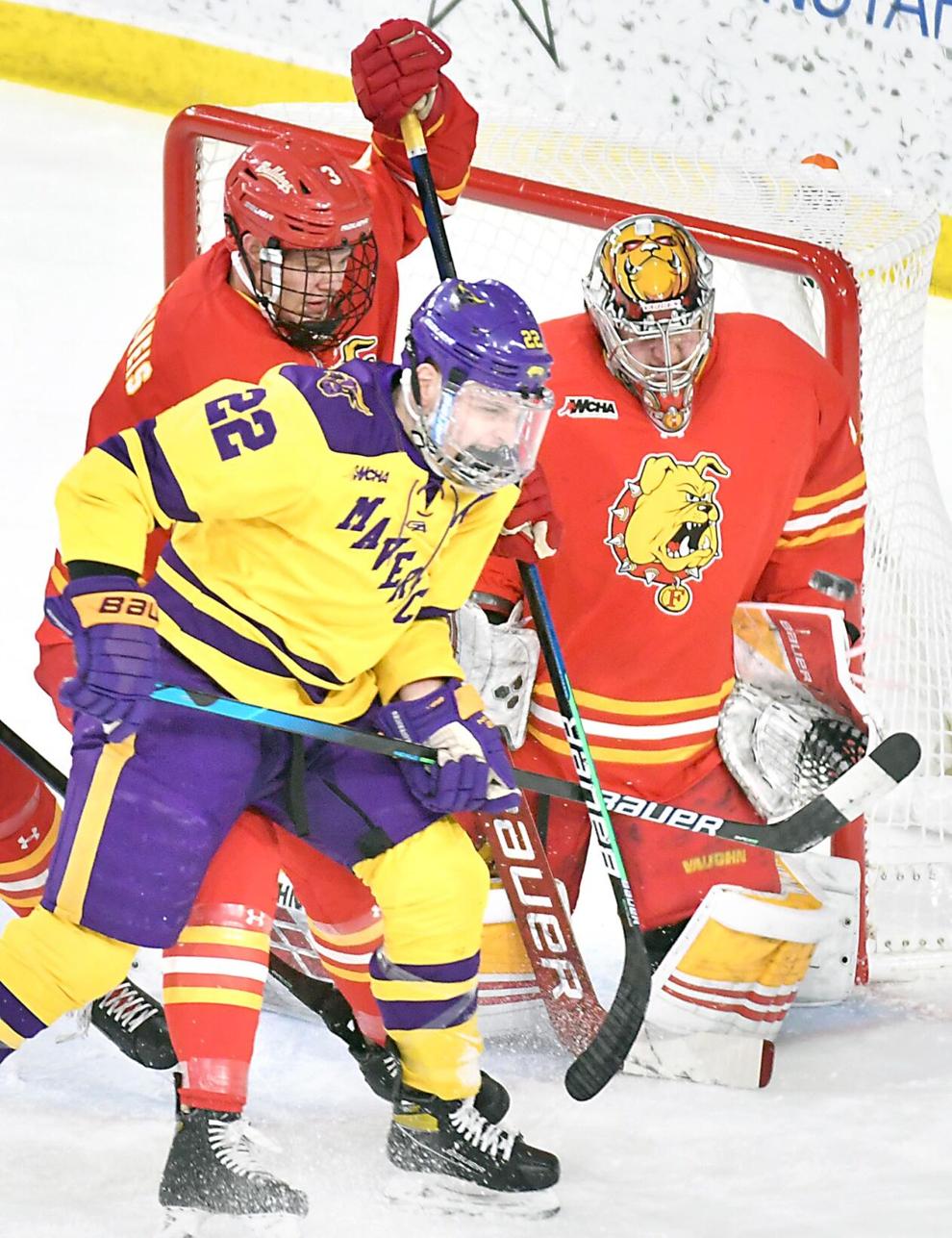 "He's on a special string here that's pretty unique," MSU coach Mike Hastings said after the third shutout. "I haven't been around that in quite some time. He's just been real focused on what his job is, and he's been very good at it."
MSU had an early February series against Bowling Green with first place in the WCHA on the line and made a statement. The Mavericks dominated both games in a series many felt would be extremely close, taking a firm lead in the conference.
It was a lead MSU never surrendered.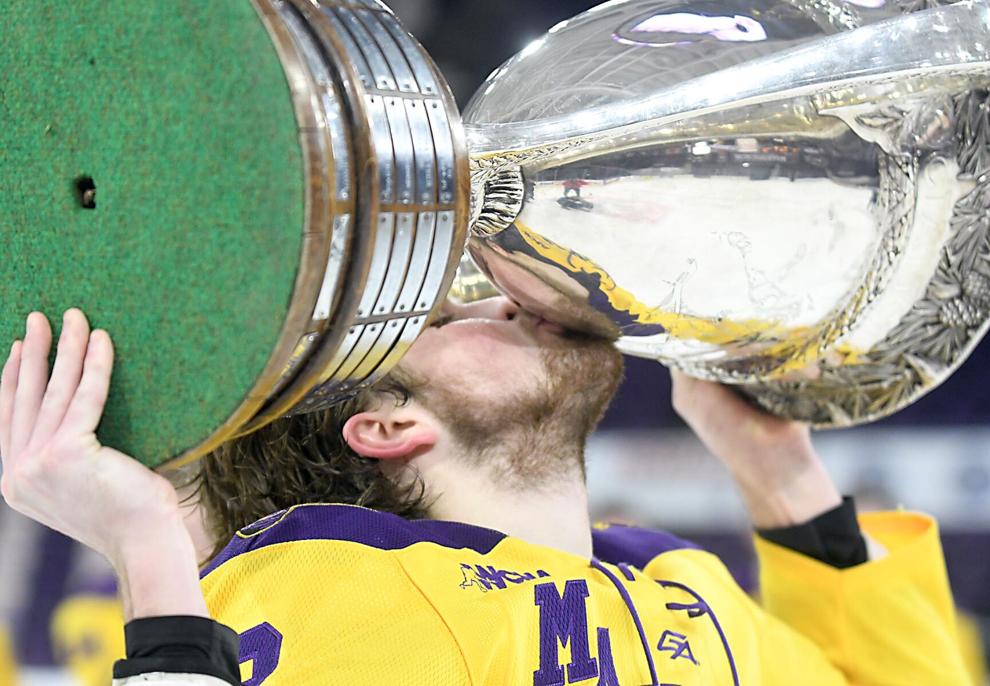 On Feb. 25, the Mavericks clinched their fourth consecutive MacNaughton Cup as WCHA regular-season champions with a 4-3 overtime home victory against Bemidji State. It was the first time a team had won four consecutive MacNaughton Cups.
Julian Napravnik scored the game-winner, after having a pass deflected into the goal by a Beavers' defender.
"Very blessed with this group, especially the seniors," Hastings said after the game. "I'm just happy for them because they put a lot of work into it.
"It wasn't a Mona Lisa. At this time of the year, it doesn't have to be. You've just got to win and move on."
The Mavericks finished the regular season at 18-3-1, with a 13-1 record in the WCHA. They swept Ferris State in the WCHA quarterfinals, but fell to Northern Michigan 5-1 in the semifinals.
The West is won
The Mavericks entered the West Regional of the NCAA Tournament looking to complete the task that had eluded them six times — win an NCAA Tournament game.
After a rough start led to a 2-0 deficit in their first-round game against Quinnipiac, the Mavericks mounted a furious comeback, eventually tying the game at 3 with just over a minute to play.
Ryan Sandelin got the game-winner in overtime, finally getting that first national-tournament win for the Mavericks.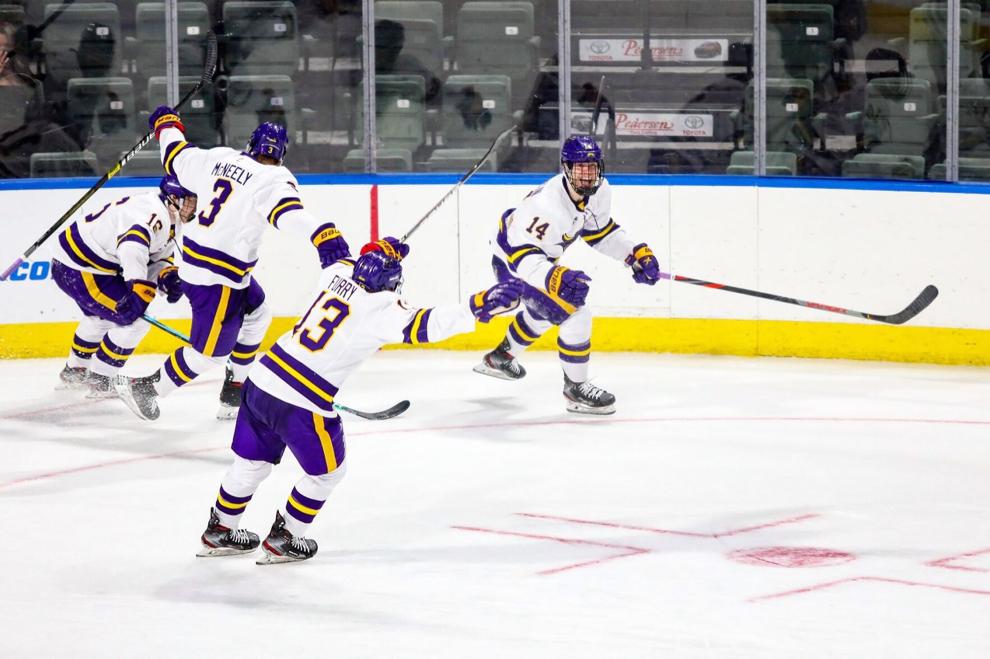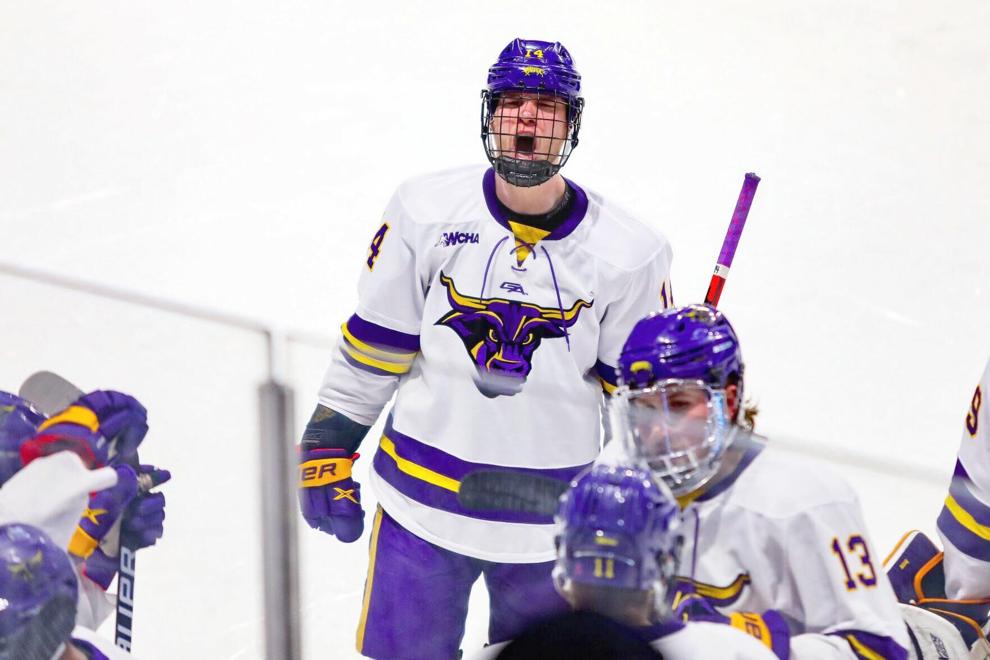 "You start thinking about some of the fans that have been through the heartbreak, they've stuck with us," MSU coach Mike Hastings said after the game. "Before you ever visit the penthouse, sometimes you've got to visit the outhouse."
In the regional final against Minnesota, the slow start that had plagued MSU for weeks didn't happen. Sam Morton and Sandelin each scored first-period goals for the Mavericks, and they never looked back.
MSU played stifling defense in the second and third periods against the Gophers, eventually winning 4-0 to reach the first Frozen Four in program history.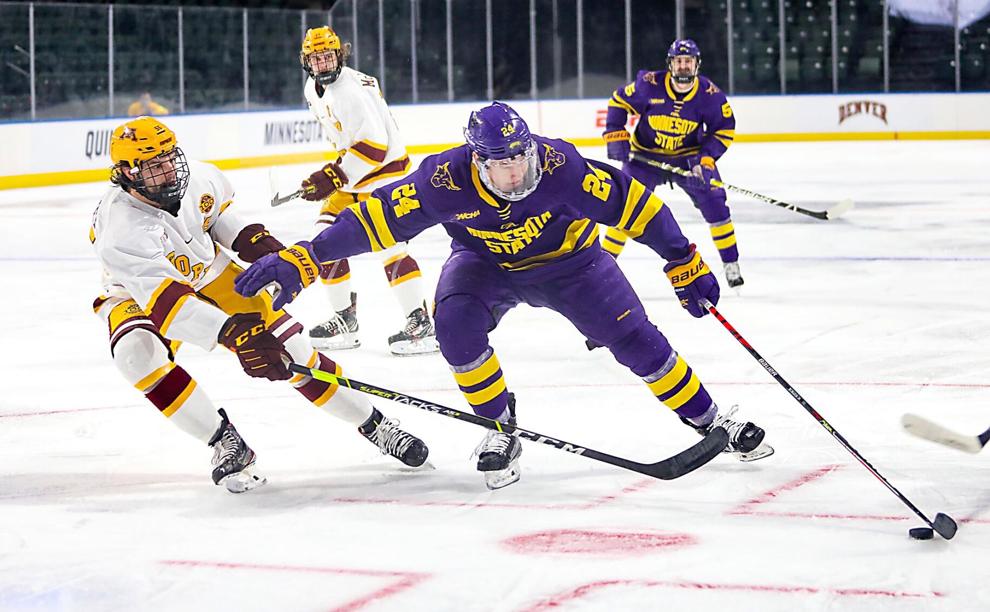 "I don't know if it was just getting that off our back ... but the guys came out and they played free," Hastings said after the game. "We wanted to try and play from ahead because we'd gotten tired of playing from behind."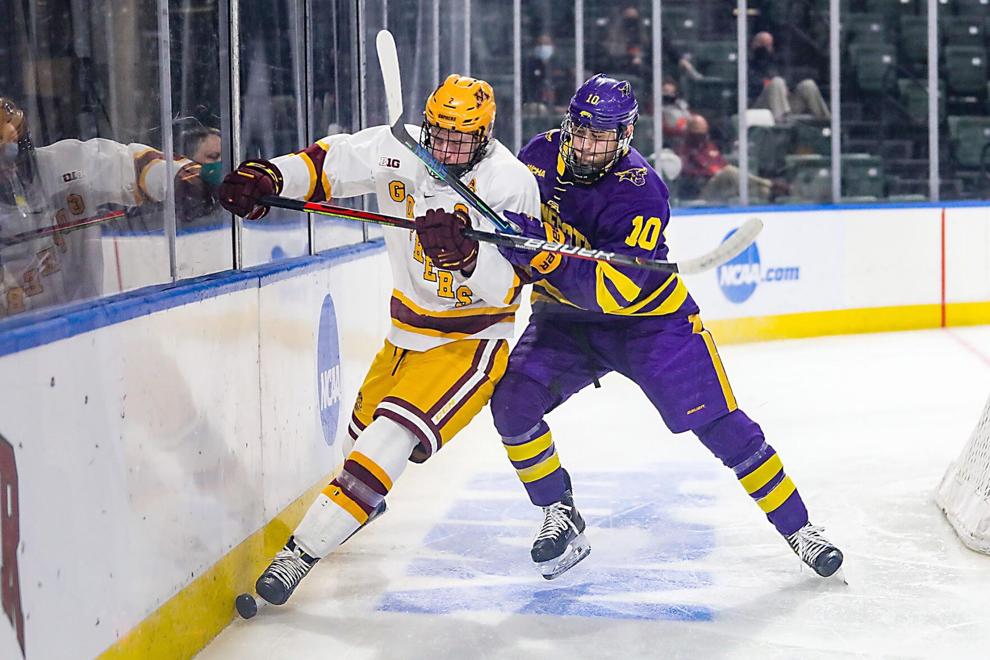 Along with beating Quinnipiac and Minnesota, the Mavericks also fended off COVID-19. MSU had five consecutive days of negative tests at the regional, something that was necessary to be able to play.
There was added stress when both Michigan and Notre Dame were forced to bow out of their regionals due to virus protocols.
"You're trying to survive the day. Then you're trying to survive the week just so you have an opportunity to compete," Hastings said at the regional. "That can be a very stressful situation.
"I wouldn't be telling you the truth if (I didn't say) every time we go in and we get tested while we're here, that there's not a little bit of anxiety in that room until all the tests come back and we're clean."
The bitter end
The buzz was everywhere around Minnesota State ahead of its first Frozen Four appearance.
There were hype videos, former Mavericks glowing with pride and fans doing anything possible to secure a ticket and get to Pittsburgh.
Just as they did at the regional, the Mavericks did everything right in terms of avoiding the virus, but it didn't go quite as well on the ice.
MSU got off to a poor start in its semifinal against St. Cloud State and eventually trailed 3-1 in the second after the Huskies were able to capitalize on some MSU mistakes.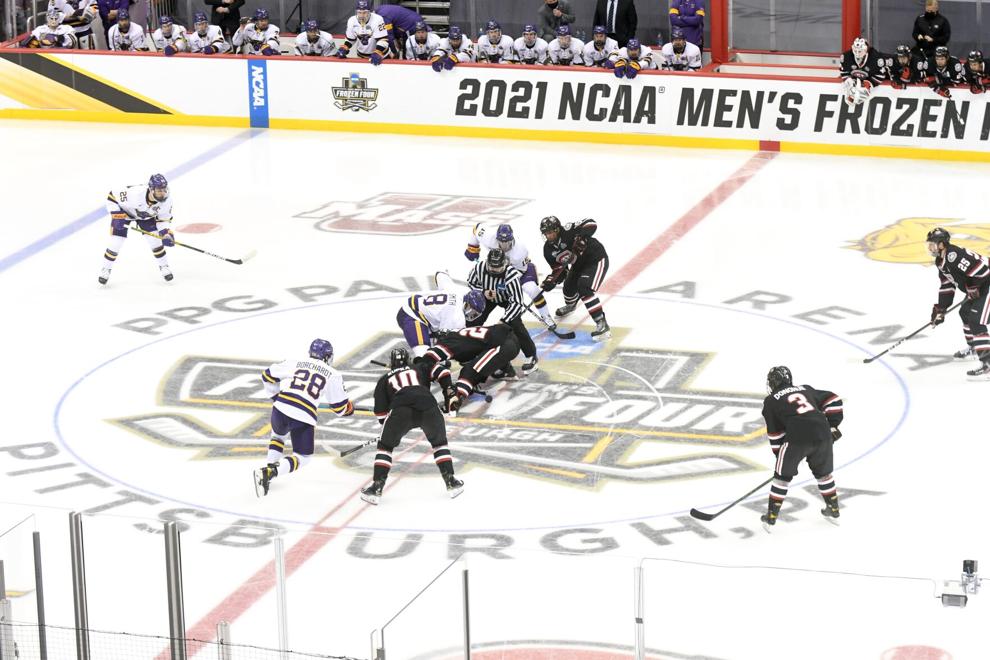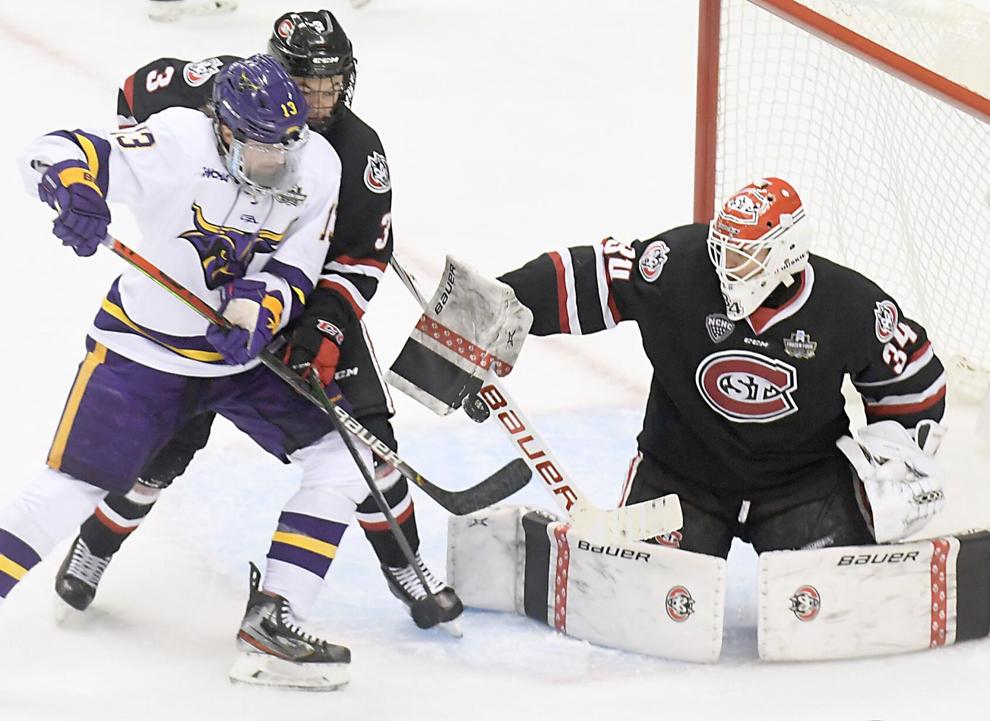 However, as they'd done so many times, the Mavericks got to work in the second half of the game and mounted a comeback. Walker Duehr and Nathan Smith scored to tie the game late in the second, and Dallas Gerads gave MSU a 4-3 lead early in the third.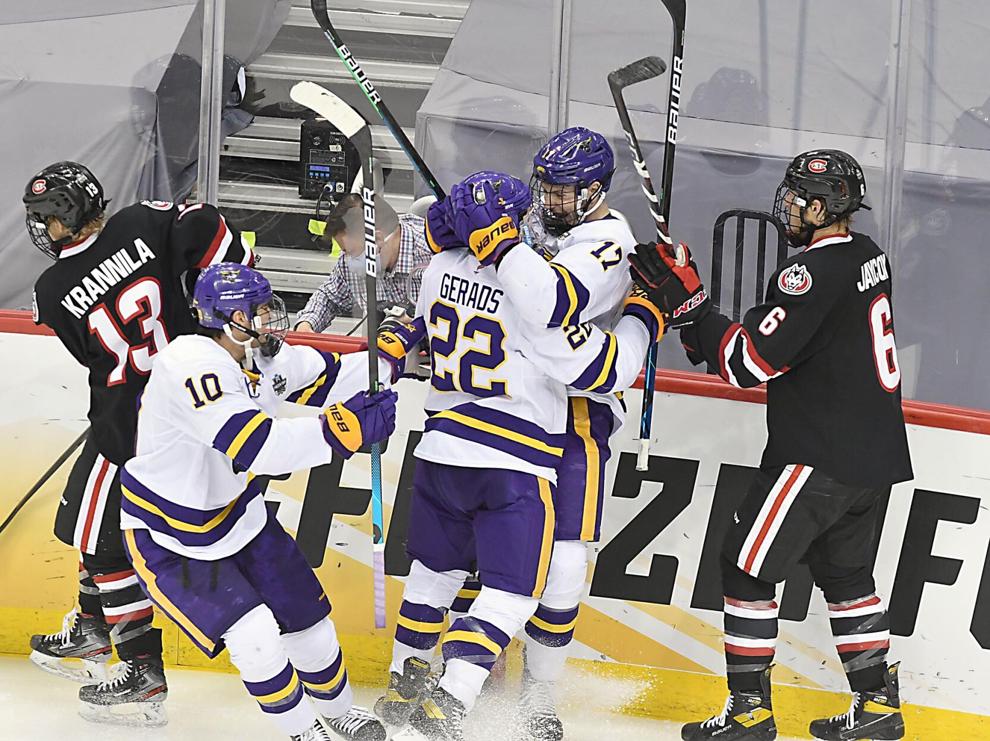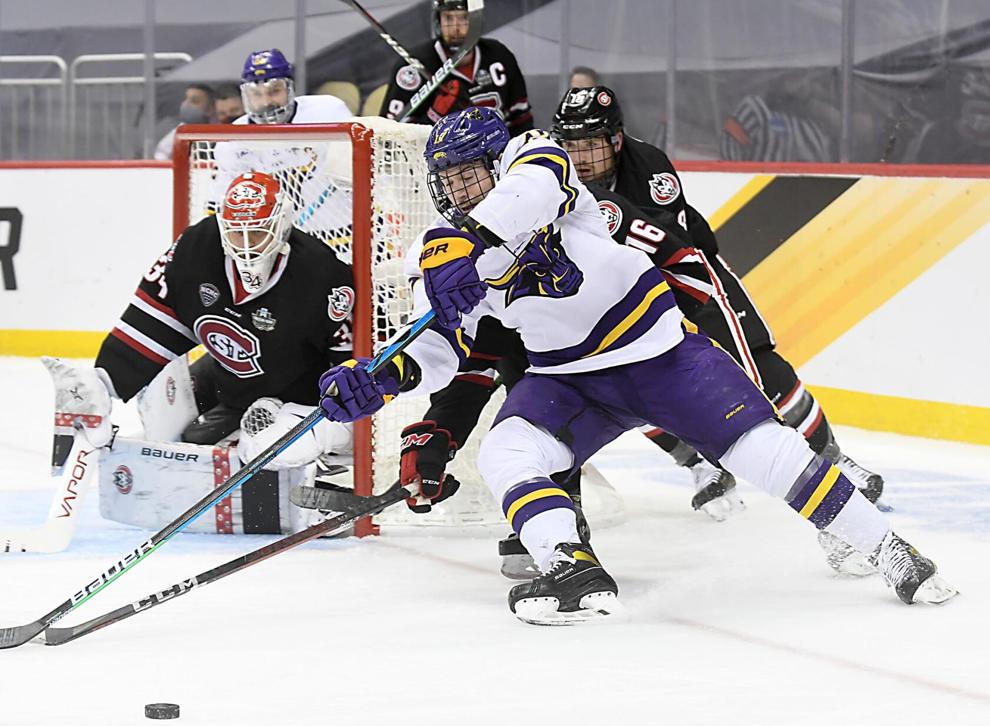 The Mavericks eventually fell in the final minute, when the Huskies' Nolan Walker tipped the game-winner past Dryden McKay with 53.2 seconds remaining.
"When you have two evenly matched teams, a play at the end of the game can make the difference, and they found a way to do it and we didn't," MSU coach Mike Hastings said after the game. "As much as it hurts, we've got to own the outcome."
Despite the loss, MSU's fans had a great time in Pittsburgh, enjoying the various sites and attractions. Prior to the game against the Huskies, fans gathered at the Souper Bowl, a bar across from the street of PPG Paints Arena that was the designated MSU pregame hangout.
"There's less people, less crowds, less waits ... it's been a comfortable weekend in a major city without having to worry too much because crowds aren't really big," TJ Palesotti, who was in Pittsburgh for both games, said.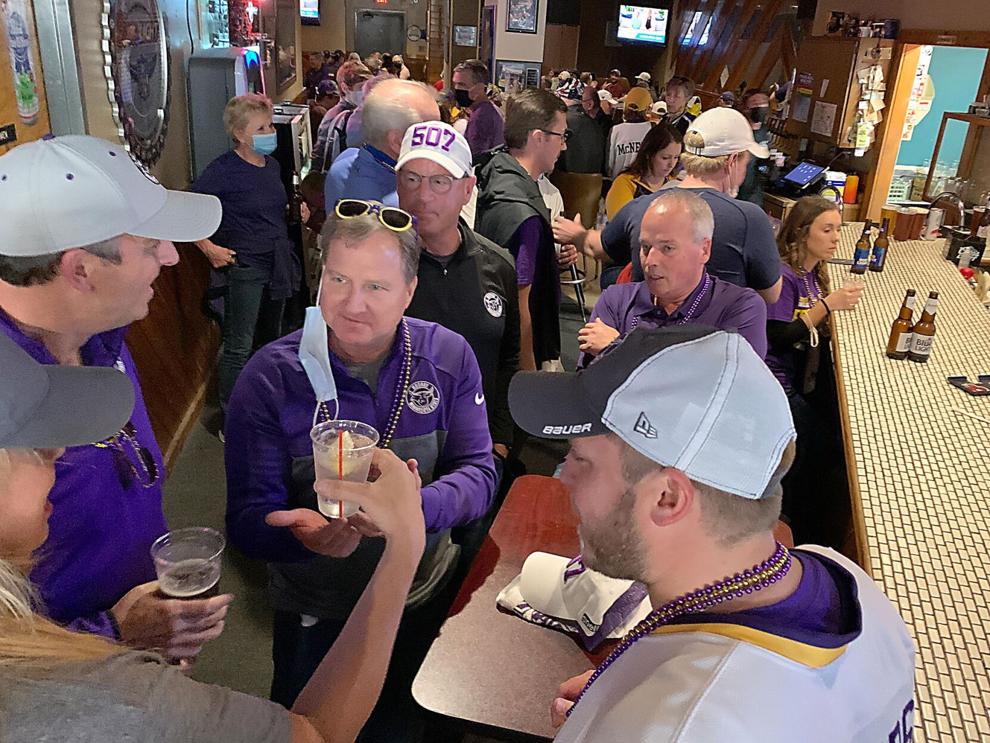 Individual honors
Dryden McKay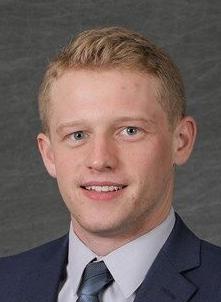 It was a banner season for Minnesota State goalie Dryden McKay, who raked in individual awards for a second consecutive year.
McKay, a junior, was second in Division I in goals-against average at 1.54 and led the nation with 10 shutouts. His 24 career shutouts are second in Division I history.
He was also the WCHA Goaltender of the Year and Player of the Year.
"The thing that's unique about Dryden ... he hasn't been satisfied," MSU coach Mike Hastings said in March. "He's continued to develop and work on areas he needs to continue to get better at. And that's not something that he's ever ran from. He's embraced it."
McKay was one of three finalists for both the Hobey Baker Award and Mike Richter Award for best goalie, but didn't win either. He was also a finalist for those two awards last season.
Mike Hastings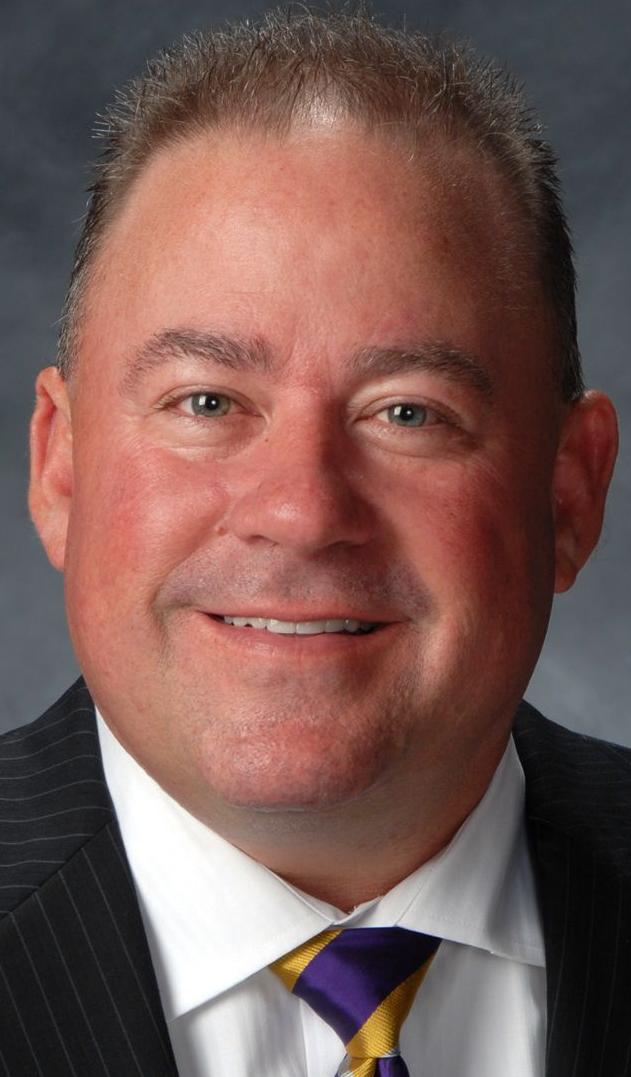 Minnesota State's Mike Hastings won his second Spencer Penrose Award as the Division I Men's Hockey Coach of the Year, guiding the Mavericks to their first Frozen Four.
Hastings also won his fourth WCHA Coach of the Year award and was named the WCHA's Coach of the Decade for the 2010s.
Hastings has a career record of 236-90-24. No coach in Division I has won more games than Hastings in his nine seasons behind the MSU bench.
"(With) a lot of us, you know what you're going to get. Night in, night out ... with Mike, he's not afraid to change week-to-week," Bemidji State coach Tom Serratore said of Hastings earlier this month. "During the game, he's the best bench coach I've ever coached against."
Julian Napravnik
Julian Napravnik was named the WCHA Offensive Player of the Year, finishing with 17 points in 14 league games.
He was also a first-team All-WCHA pick.
It was a forgettable start for Napravnik, who was scratched in MSU's third game of the season. However, from that point forward, he played with a chip on his shoulder and quickly became one of MSU's top forwards.
"I couldn't wait for the games to prove to him that he doesn't want to ever scratch me again," Napravnik said of his benching in February. "I don't want to be the guy that needs to be scratched to play the way I'm supposed to."
Napravnik led the Mavericks with 28 points in 27 games.
Akito Hirose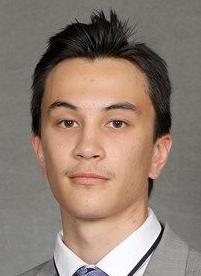 Minnesota State entered the season planning to lean heavily on freshman defenseman Akito Hirose, and he delivered in every way.
Hirose was voted the WCHA Rookie of the Year and also earned third-team All-WCHA honors. He led the Mavericks at plus-18.
He finished with 15 points and was constantly a key cog on MSU's power play.
"Good things happen when he's on the ice more often than bad things," MSU coach Mike Hastings said in March. "It goes in their net more often than it goes in our net when it's even strength, so he's not just doing it on the power play. He does a good job of getting us out of our end and into the opposition's end with possession."
Nathan Smith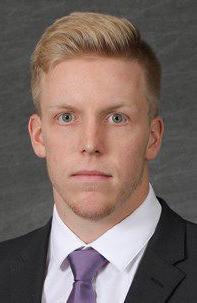 Nathan Smith earned second-team All-WCHA honors, finishing second on the Mavericks with 25 points.
Down the stretch, Smith was MSU's top center, playing huge minutes on a line with Julian Napravnik and Cade Borchardt. He scored four goals in MSU's NCAA Tournament run and was named to the all-tournament team at the Frozen Four.
Smith, a third-round draft pick of the Winnipeg Jets, put his NHL-caliber strength and tools on display all season.
"If you really want to upset Smitty, tell him he can't work out. It's as much as brushing his teeth and getting dressed in the morning. He needs his workout," MSU coach Mike Hastings said in February. "That's a self-motivating quality of that young man."