It felt like they were going to do it again.
After another slow start, the Minnesota State men's hockey team clawed its way back into the game, scoring three consecutive goals and eventually taking a 4-3 third-period lead over St. Cloud State.
However, disaster struck in the final minute, as the Huskies scored the game-winner with just 53.2 seconds remaining to down the Mavericks 5-4 in the semifinals of the NCAA Tournament on Thursday at PPG Paints Arena.
After St. Cloud State's Joe Molenaar tied the game at 4 at 10:14 of the third, the Huskies' Nolan Walker scored the game-winner. Walker was able to tip Seamus Donohue's point shot past MSU goaltender Dryden McKay.
"When you have two evenly matched teams, a play at the end of the game can make the difference, and they found a way to do it and we didn't," MSU coach Mike Hastings said. "As much as it hurts, we've got to own the outcome."
Defenseman Riese Zmolek added: "They're a good hockey team, they're going to make plays. Hats off to them late in that third period."
The Mavericks struggled to get any sustained time on the puck throughout the first half of the game.
Will Hammer gave the Huskies a 3-1 lead at 2:40 of the second period after a bad defensive-zone turnover by MSU, a goal that came at a time when MSU had nothing going.
In the following minutes, MSU got to work, slowly establishing its physical style against a Huskies team that was able to match them in that regard.
Walker Duehr made it 3-2 when he banged home Dallas Gerads' rebound at 12:07, and Nathan Smith scored his second power-play goal of the game, sniping one over the right shoulder of Huskies' goalie David Hrenak.
In three NCAA Tournament games, Smith scored four goals while centering Julian Napravnik and Cade Borchardt on MSU's go-to line.
"Nathan's always been a really good distributor of pucks ... but I thought he really asserted himself with the puck ... it just makes him a dual threat," Hastings said. "That and the maturity away from the puck. He started to take a bit more pride, and that was him stepping up and doing it."
At the West Regional, some of MSU's seniors played less to accommodate the younger guys, but a few of those players stepped up in a big way against the Huskies.
As the game progressed, Hastings got back to a more normal rotation, playing the fourth line of Gerads-Shane McMahan-Duehr more. Gerads and Duehr each finished with a goal and an assist.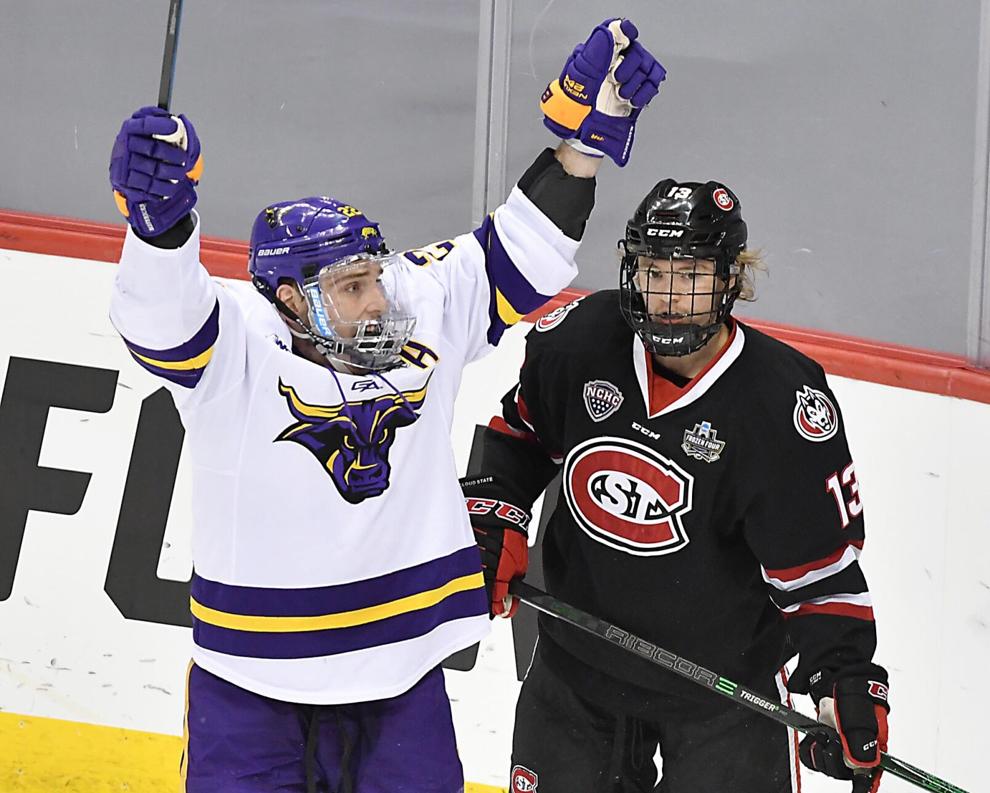 "They were a line that I thought had an impact on tonight's game to get us back into it. They're guys that have been through a lot of battles," Hastings said. "We needed some other guys to step up and those guys did. They gave us an opportunity to get it back and get a lead."
Shots on goal favored the Mavericks 29-22. McKay made 17 saves for MSU.
As the season ends for MSU, there's been a lot of new ground broken. MSU got the first NCAA Tournament win in its Division I history and backed it up with a dominant performance against Minnesota in the West Regional final to make its first appearance in the Frozen Four.
The Mavericks finish the season at 22-5-1.
"It's a special group of guys," an emotional Zmolek said. "I'm proud of every single person in that locker room that got us to this point. This organization is unreal, this is just the starting grounds for them ... they'll be back for more."
Follow Kevin Dudley on Twitter @Dudley7Kevin.