Mary Nelson walked down to the end of Mankato East High School's Wolverton Field track, looking for two members of the girls track and field team that she had talked to a few minutes earlier.
They were nowhere to be found.
After several minutes, Amal Hussein and Nimo Hassen, two of East's growing population of Somali students, finally showed up. They had followed what they thought were Nelson's instructions to go for a jog around the block.
Nelson, a Cougars assistant coach, had a good laugh, along with the girls. She actually had told them to go down to the blocks — the starting blocks.
"I know running lingo, but you literally have to break it down," Nelson said. "It's beginning stuff for them."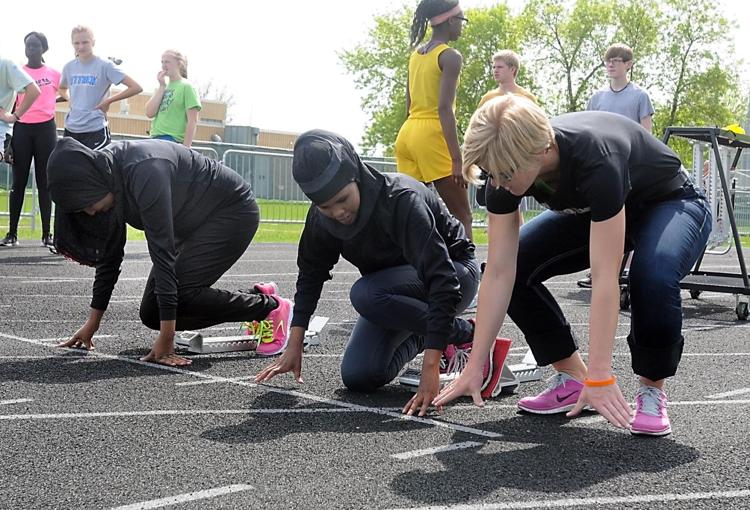 The language barrier — for some students of immigrant families — was just one roadblock to getting Somali girls out for sports at East, but they are starting to be coaxed onto the playing fields.
This year, East had five Somali girls out for the high school track team. Another five junior high girls were out. School officials hope there will be even more in years to come.
"There are cultural and religious barriers," said Harbi Hassan, the cultural liaison for the Mankato school district. "You have to understand and respect the religion and culture, and the school made it possible that they can participate."
East has the goal of getting 100 percent of its students to participate in extra-curricular activities; currently, it's at about 75 percent , according to activities director Todd Waterbury. The school identified Somali girls as a group that needed some nudging into school sports and clubs.
While Somali boys have played soccer and other sports for years, the girls have not gone out for athletics at the same rate, often maintaining traditional gender roles in their families.
Hussein, a junior, was one of the first to sign up.
"Any sport would be awesome," she said.
Said junior Warda Jama, who competes in shot put and discus: "I was tired of going home, doing homework and just going outside. I wanted to do something different. I wanted to do what other students were doing and be more balanced at school."
Jama, who is in her second year of track, said she now wishes she would have gone out in seventh grade. However, she said, language was more of a barrier to her then.
One of her teammates, freshman Ikra Mohamud, has been in the United States less than year and still needs some translation assistance.
"I love the sport of running," she said through Hassan.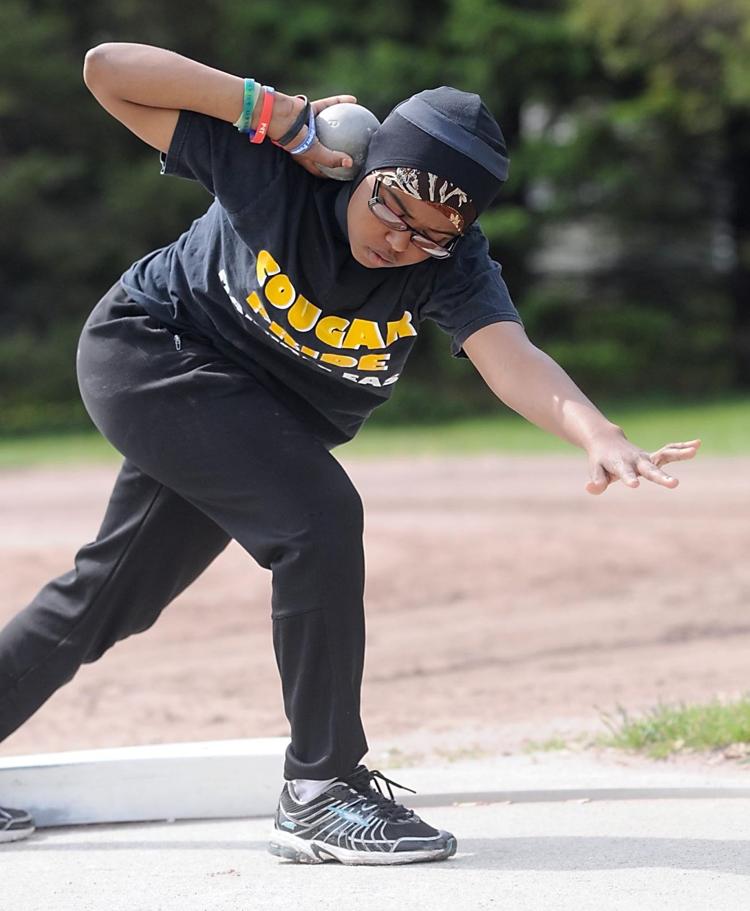 Hassan and assistant principal Dave Lutz talked to parents and community members about getting the girls more involved. The response, they said, was positive.
"The biggest part when we talked about barriers was asking questions," Lutz said. "We engaged the community and got community support and interest. They deserve as much credit as anybody."
Hassan said giving all students a sense of belonging in the school setting is important in their growth. He's had similar discussions with the district's Hispanic and Sudanese populations.
"It starts at the top with a commitment from the school to bridge any gap in equity and access for all kids," Hassan said. "We want to make them feel comfortable here."
Track and field ended up being a good fit. Athletes aren't cut from the rosters, and they're constantly working to better their sprints, runs, jumps and throws.
"One of the beautiful things about track is that things can improve every single time they do something. It doesn't matter if it's a meet or practice," Nelson said. "It's literally about PRing (achieving personal records). Everybody is looking to get a PR so it puts on a level playing field every student-athlete out here. Did you improve?"
East had to make accommodations for the girls. Officials searched far and wide for athletic-style hijabs – the head coverings worn by Muslim girls and women – finally securing them through a vendor in the Netherlands. The school also provides athletic pants and long-sleeved shirts to ensure they are following and respecting religious customs.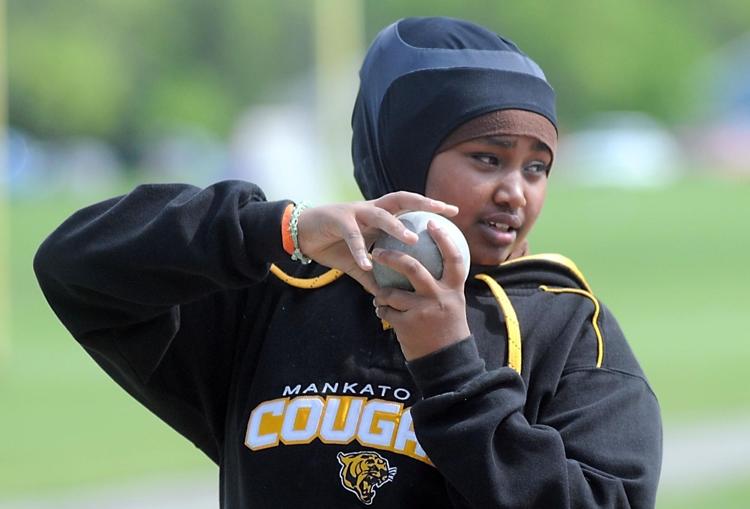 "The (hijabs) are cool," said Hassen, a freshman sprinter. "You don't worry about them falling down when you run. … They make you feel special, too; it shows that the school cares about us and supports us."
Sabrina Abulkadir, a sophomore who does sprints, jumps and throws, agreed.
"Everybody in the Mankato East community makes you feel more comfortable," she said. "We're breaking boundaries."